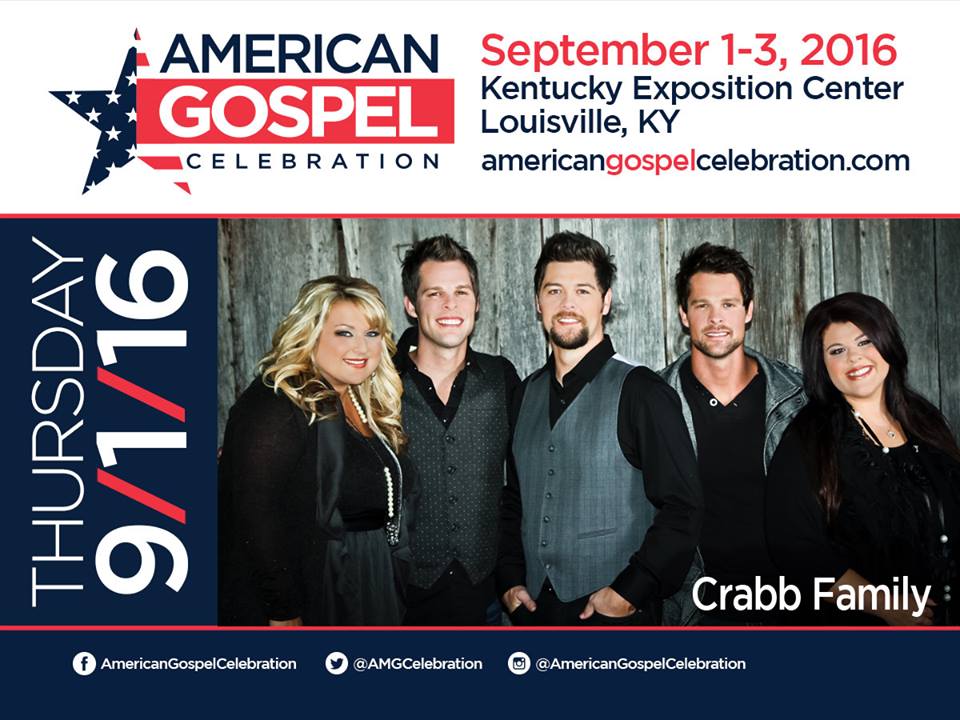 The much anticipated American Gospel Celebration kicks off September 1, 2016 in Louisville, Kentucky. This new event includes preaching, speaking, and music with a focus on celebrating faith and freedom. The Jason Crabb way to describe the American Gospel Celebration is to refer to it as "A Blast" and "Fun Times!"
With musical guests such as the Crabb Family, the Isaacs, Larnelle Harris, Canton Junction, Voices of Lee, the Hoppers, Larry Gatlin, Gordon Mote, the Booth Brothers, Diamond Rio, and Lee Greenwood along with speakers, John Hagee, Matthew Hagee and Glen Beck, Crabb accurately portrays what is about to go-down at Freedom Hall. It is definitely going to be "a blast" and "fun times." After all, this is a celebration! The celebration starts Thursday, and ends Saturday.
Doors swung open in the 90's welcoming the Crabb Family to rock the Gospel music world. The multi-award winning group experienced tremendous success until they parted ways in 2006. Each member now carries out successful ministries of their own, but their reunion performances generate excitement among fans. Those fans love the old Crabb Family hits and that's exactly what the Crabbs will deliver Thursday night.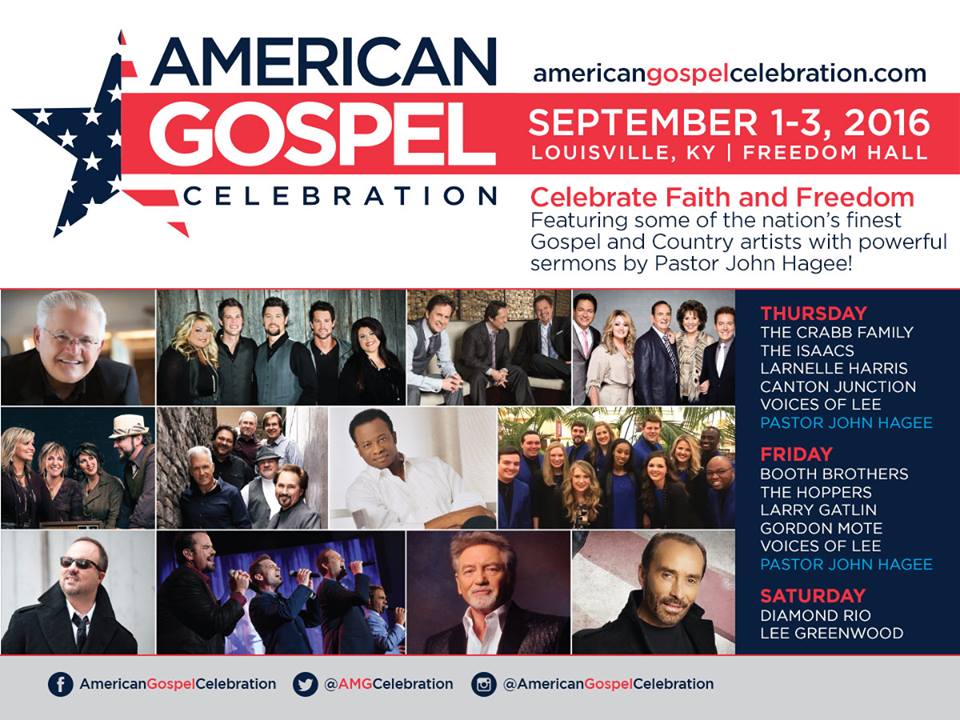 "We're going to go back and grab those old songs that everybody wants us to do," Jason says. "Sometimes we may mix it up a little bit and throw in a new song, but the old songs are the ones that brought us to the stage and that's what the people want to hear. We really enjoy doing the songs that we haven't done together in a while. So, it's gonna be a blast, a good time!" Enhancing the Crabb Family's singing will be their live band. "They are probably the best players around," Jason adds. Fans agree!
The only thing that could make a good event even better is to add the spirit of giving to preaching and good music. The Military Warriors Support Foundation will honor three combat-wounded heroes and/or Gold Star spouses by awarding them mortgage-free homes. "This is just another reason I love the Hagee family," Crabb comments. "They are wonderful supporters of our country. I think that when a person honors veterans for all they have done it shows the integrity that they have for people and our country. Now that's a person I can trust and want to be around." Musical performances by country music stars such as Larry Gatlin, Lee Greenwood and Diamond Rio will certainly spike the spirit of patriotism!
The three day event will take place at the Kentucky Fair and Expo Center, a familiar place for Gospel music fans and the Crabb Family. "Freedom Hall is a special place to us," Jason explains. "This is where the National Quartet Convention used to be held, so it will be good to smell that familiar smell of pop-corn— that carmel pop-corn, up and down these halls like we used to," he laughs. Kentucky is also where the Crabb Family has deep roots and therefore look forward to seeing many friends and family there tomorrow night.
Other activities of the three day event will include a talent contest and tailgating offering gospel music fans an opportunity to enjoy food, good music and a time to mingle with performers. Also Pastor John Hagee will be the keynote speaker offering wisdom from God's word as faith and freedom are celebrated. Jason says, "There is something for everybody," and he is right. This "something" most definitely will be remembered as "good times" and hopefully will be the first of many of its kind.
For ticket information visit: http://www.americangospelcelebration.com