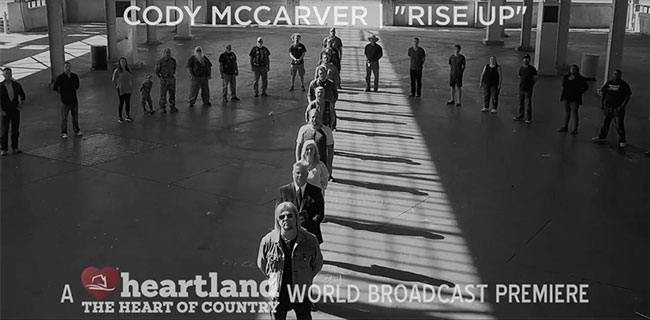 Nashville, Tenn. (December 9, 2016) – Cody McCarver's new video, "Rise Up," had it's World Broadcast Premiere on The Heartland Network on Friday, December 9, 2016. The video accompanies the first single released from a forthcoming 2017 project. The powerful song calls people to action, to 'rise up' and be who God created them to be.
The video, filmed on location in Chattanooga, TN, was directed by Deb Haus and filmed by Flick Whitsire / Vintage Flick Productions.
Cody McCarver is well-known for his over 10-year career with country music super-group, Confederate Railroad. After his departure from the group, he forged his own road in country music.
McCarver had it all, but something was missing. "Here I was with everything I could imagine," states Cody. "My CD's all over in Wal-Mart, Best Buy, etc., everything I wanted. I had a bus, band – I had it all. But, I was miserable. I started filling that void with Jack Daniels, who became my best friend, every single day."
Cody's life began to spiral out of control. "I was headed for death," says Cody. "I knew something had to change…so I went to church." Cody searched and found joy in his renewed relationship with God. Cody says: "God let me know that He never left me and He was with me the entire time."
Once again, Cody is making waves with his music. This time it's Christian and country music with a new genre of music called OUTLAW GOSPEL. After being told by several people in Christian music industry his voice and songwriting sounded "outlawy," Cody said, "Well, maybe I'll call it Outlaw Gospel."
That's where Cody McCarver is today – a renewed focus, a fresh outlook and a vision for the future.
The Heartland Network is a 24/7 digital broadcast television network, proudly presenting the broadest spectrum of true country music. Heartland is the nation's premiere country entertainment destination, combining the very best in classic country, straight from the vaults on Music Row, with the relevant and compelling country music of today's generation.