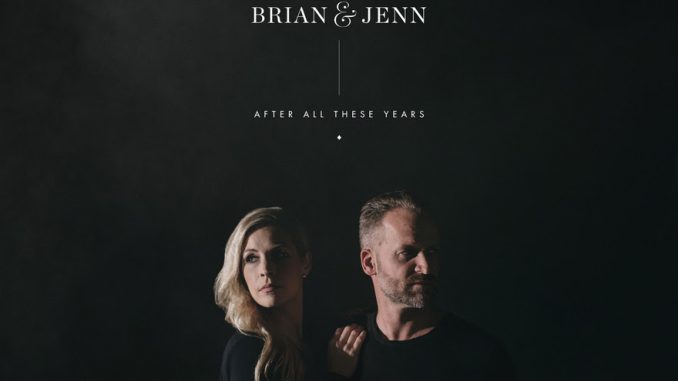 Nashville, Tenn. (Jan. 27, 2017) – Available now, Dove Award winning Bethel Music's Brian & Jenn Johnson debut After All These Years, applauded as "beautiful offerings of worship" and "sure to be one of the top worship albums of the year." Hitting No. 1 on the iTunes Christian Albums chart, the 10-track album comes more than 10 years since their last solo release together, featuring an 80-piece orchestra with every song cowritten by the duo.
Prior to the album debut, the Johnsons offered an exclusive 48-hour streaming full preview of After All These Years on bethelmusic.com. Exciting fans everywhere, listeners commented on the album, sharing, "LOVING this stream," "Can't wait to buy a copy!" and "pre-ordered and love it so far!"
Read what critics have to say about After All These Years:
"After All These Years is best described as a worship experience with an ethereal tone, and it's sure to be one of the top worship albums of the year. I've been impressed by the consistent quality and fresh worshipful songs that come from Bethel Music, and this album is no exception…it's a must-have for your praise and worship collection." – NewReleaseToday
"After All These Years is both musically and lyrically a beautiful collection of worship songs. The Johnson's love and adoration for God shine through with prayerful lyrics, and the instrumentation and melodies join with these inspired words to craft songs that are beautiful offerings of worship." – The Christian Beat
"After All These Years percolates with a nostalgic throwback feel. The themes of the songs rife with an irresistible joy as the couple look back at God's faithfulness over the various seasons of their careers. The Johnsons show us that you don't have to reinvent the wheel to be affective." – Hallels
For more information on After All These Years, visit Brian & Jenn Johnson's newly launched website, brianandjennjohnson.com.
About Brian & Jenn Johnson
Brian & Jenn Johnson are co-founders of Bethel Music, WorshipU, and have been integral in the production of more than 15 albums that have influenced the culture of worship across the global church. They are committed to raising healthy family, cultivating community, and fostering unity among worship leaders from around the world. Brian & Jenn's newest solo album, After All These Years is available now. Brian facilitates an atmosphere of faith in worship and has written anthems such as "Have it All", "We Will Not Be Shaken" and "One Thing Remains," which was awarded No. 1 song for ASCAP Christian Music and No. 1 Radio Single in 2013. Known for her powerful vocals and unique prophetic sound, Jenn has authored songs such as, "In Over My Head", "Come To Me", "God I Look to You" and "O Taste and See." Together they are passionate about raising up worshippers who take hold of their true identity and pursue intimacy with God above all else. Brian and Jenn reside in Redding, California, with their three wonderful children.
Get Connected With Brian Johnson
Website // www.bethelmusic.com/artists/brian-johnson
Facebook // www.facebook.com/brianjohnsonm
Twitter // www.twitter.com/brianjohnsonM
Instagram // www.instagram.com/brianjohnsonm
Get Connected With Jenn Johnson
Website // www.bethelmusic.com/artists/jenn-johnson
Facebook // www.facebook.com/jenn.johnson.bethel
Twitter // www.twitter.com/jennjohnson20
Instagram // www.instagram.com/jennjohnson20