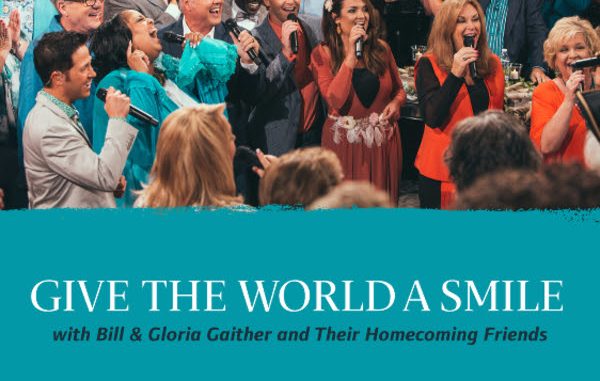 NASHVILLE, Tenn.–February 15th, 2017—Gaither Music Group is set to release two all-new HOMECOMING DVD and CD recordings on February 24th.  Give the World a Smile and Sweeter As the Days Go By take fans "back to where it all began" as they were filmed at the famous Gaither Studio C at the company's home base in Alexandria, Indiana.
The two new releases feature over 125 members of the HOMECOMING family of artists, led by Bill and Gloria Gaither, enjoying an evening together of gospel singing, storytelling and a celebration of lifelong friendships. Gospel music fans will enjoy performances by the award-winning Oak Ridge Boys, the Gatlin Brothers, Jeff & Sheri Easter, the Booth Brothers, Russ Taff, Goodman Revival, the Gaither Vocal Band, Mark Lowry, Lynda Randle, David Phelps, The Isaacs, The Hoppers and more.  Performances from up-and-coming artists including Bradley Walker, the Martin Family Circus and others added to the excitement in this room of veteran performers.
"Several years had passed since we gathered the HOMECOMING family together in our hometown studio, so at last we were able to get the family together again and reignite the great memories we have shared over the years," stated legendary singer, songwriter and the brand's founder Bill Gaither.  "What an incredible time it was!  These new programs truly capture the spirit of those early gatherings that first started the HOMECOMING series. One powerful moment flowed into the next as we reminisced together and joined our voices to sing our favorite songs."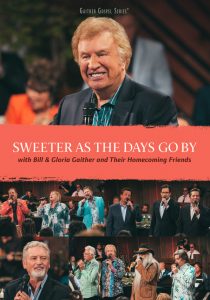 The top-selling Gaither HOMECOMING Series, known worldwide for its TV specials and arena tours, has become a household name among gospel music lovers since its early days when the concerts featured such legendary artists as Jake Hess, Vestal and Howard Goodman, George Younce, Glen Payne, Dottie Rambo, Hovie Lister and many more gospel music mainstays.
"It's been over six years since we had this many of our family of artists in one room to sing together," stated Paul Sizelove, vice president of Gaither Music Group.  "Recording in the home studio brought back many special memories from years gone by, and it's always good to see the camaraderie among these artists and experience the special moments when they join together in song."
Those songs include timeless favorites such as "There Is Power in the Blood," "Working on a Building," "Sinner Saved by Grace," "Child of the King," "Holy Spirit, Thou Art Welcome," "It Is No Secret," "We'll Talk It Over," "Roses Will Bloom Again," the title tracks and more. (full track listing below)
Give the World a Smile and Sweeter As the Days Go By will air as a TV special on a large number of networks including PBS, DIRECTV, Dish TV, AT&T U-verse, TBN, RFD, GaitherTV, FamilyNet, CTN, GMC, GMTN, Guardian, Liberty, TCT and TLN. In Canada it will air on Vision TV, The Miracle Channel, CTS and Hope TV.
The DVD and CD recordings are exclusively distributed by Capitol Christian Distribution and Universal Music and will be available throughout general market stores and the Christian marketplace in addition to online retailers including iTunes, Amazon, www.cbd.com and www.gaither.com, where pre-sales are now available.
To enjoy a promotional video from the taping sessions, visit:
For further information about the Gaither Homecoming family of artists and products visit:
https://www.facebook.com/Gaithermusic/?fref=ts
Twitter:  @Gaithermusic