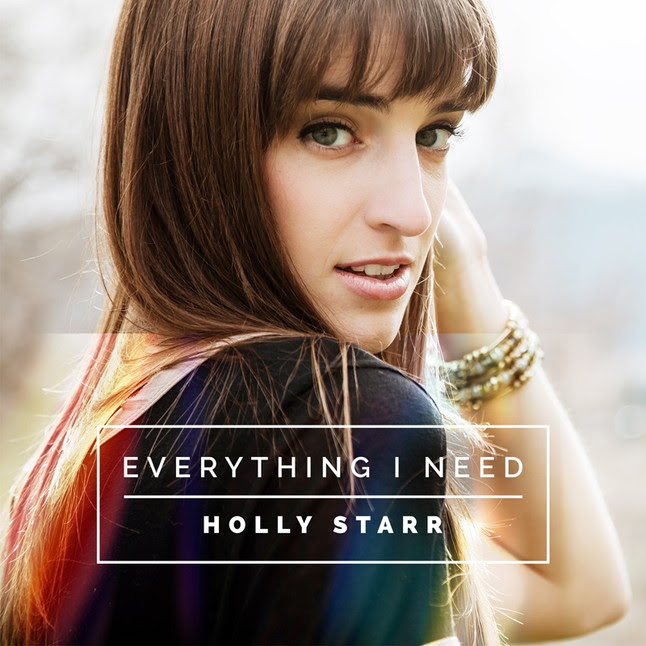 "Refreshing" is the first word that comes to mind in an attempt to describe the latest project from Holly Starr. There is just an element of humility, sweetness and honesty about this whole album that is like a breath of fresh air.
Although Starr's voice is clear as a bell, and is absolutely beautiful, what is equally or even more impressive is her depth of knowledge and desire for God. After carefully reading the lyrics to every song, it is evident that Holly has come to a place in her spiritual walk of completle surrender and total trust. The lyrics also reflect her desire to help others discover wholeness in Christ. Out of the seven selections, Starr co-wrote six.
Stylistically, EVERYTHING I NEED offers a little pop and some ballads, but overall this project has a worship feel to it. Also this album marks the first time she has collaborated with award-winning producers, Scott and Ed Cash.
All of the songs are great, but I do have a few favorites. One is "Through Me." I love the line that says, "They say be who you wanna be, follow your heart, but I'd rather be following Yours."
Another favorite is "Sunshine." The line "Lord You are faithful to make Your garden grow" just makes me smile.
And another favorite to mention is "Forever Faithful." I predict this will become a favorite of many, for this message should be cry of the heart for every true believer. The bridge is especially strong- "Create in me a brand new heart, God give me faith to overcome…Fill me with strength when I have none." What a beautiful picture of how our faithfulness isn't dependent upon us, but instead God's work in us.
This album is perfect for unbelievers and believers both new and mature. The reason is-there is common theme blended through the entire album and it screams GOD IS TRUSTABLE. That message is presented in such a tasteful, beautiful and subtle way, it leads people to the truth of who God is no matter where they may be on the journey.
EVERYTHING I NEED is Starr's fourth studio recording. For the last few years, she's grown in popularity and has become known for pop melodies. Starr has also become a main-stay at several high profile Christian festivals and she's garnered two top 25 singles at Christian radio from past projects. Even so, I foresee even greater things happening for Holly. The reason goes back the title of this album, EVERYTHING I NEED. By allowing God to be everything to her, she has positioned herself for a God-promotion, and those are always best!
For more information, visit http://hollystarrmusic.com/home/
Review Written By: Rhonda Frye