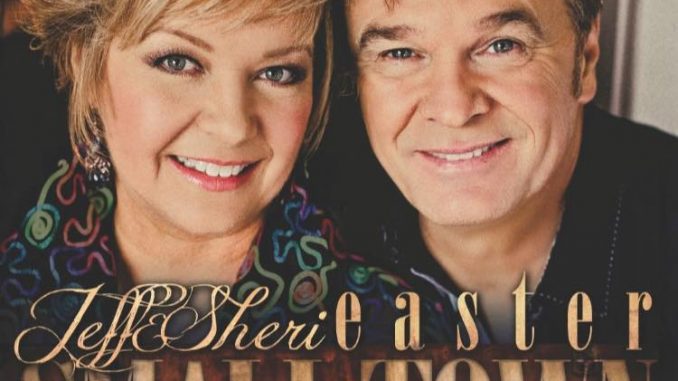 Jeff and Sheri Easter have blessed audiences all over the world for more than 30 years. Their music is recognized for having a country sound, and a message that always positively focuses on faith, family, and the joys of everyday life.
In their newest album SMALL TOWN Jeff, Sheri, Madison, and Morgan have captured our hearts once again with beautiful family harmonies, memorable melodies, and lyrics that give practical wisdom for listeners of all ages.
No matter where you find yourself in your day to day journey, there is truly something for everyone on SMALL TOWN. The opening song "Small Town Someone (Lunch)" draws a parallel from the New Testament parable about the loaves of bread and fish that fed the 5,000, to the way in which God works in our lives today using ordinary people to do extraordinary things for the Kingdom.
"Someone's Listenin'" features Morgan Easter and her powerful voice, and it beautifully depicts all of the ways in which God hears the prayers of His children and works everything out in magnificent ways that surpass our understanding. Of course it wouldn't be a Jeff and Sheri album without a good old fashioned love song, so in the tune "I Love You" the lyrics recall back to wedding vows and promises between two hearts that last a lifetime.
In my opinion, the stand out song on the album is "Jesus Loves You." This is a song every person needs to hear. Sheri Easter had a hand in writing this tune, and in my opinion it truly sums up the heart of the Easter family ministry. There are so many hurting souls in the world. Frustrations, fears, broken relationships, sicknesses, and loss fill the lives of people in every town, every country, and from every nationality. There are plenty of worthwhile pieces of advice or life lessons that you could say to such a large audience, but I appreciate that this song simply says "Jesus Loves You," because once you really grasp that truth it will completely change your heart and your perspective on how you view your life.
Overall, this is an album that would be a great addition to any collection. Everything from the case, to the pictures, to the CD itself is filled with the kind of small town charm that really warms your heart. If you are a long time Jeff and Sheri Easter fan then you will find plenty of their familiar musical qualities that you have come to know and love; and if you are a newer follower of their music, you will quickly discover the themes of hope in every line and lyric. Jeff and Sheri Easter, along with their family and other band members have delighted audiences for many years, and will always be one of the most beloved family groups of our time.
Review By Saran Heavner