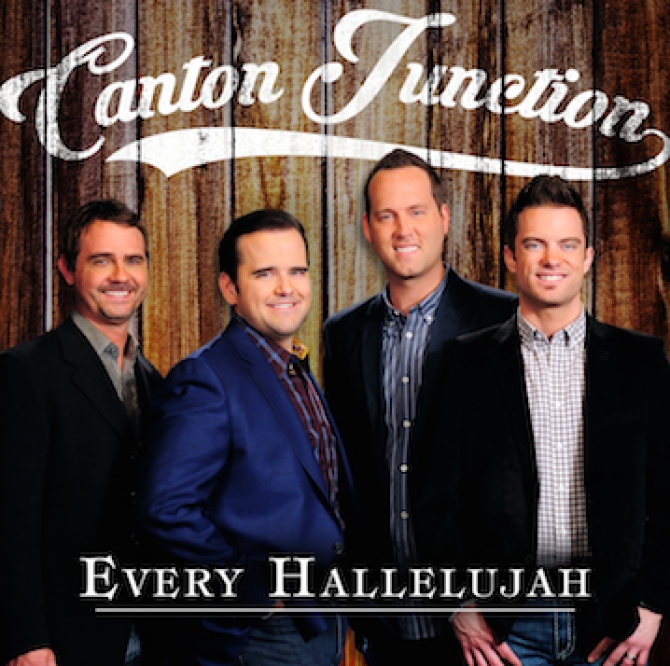 Canton Junction has been turning heads since they popped onto the scene in 2012. The group, serving under the umbrella of Pastor John Hagee of Cornerstone Church, started with a bang, quickly rose in popularity and is still rising.
There have been recent changes in the line-up, but Canton Junction is moving forward full-throttle with a new project. Eyes are watching this Texas based quartet with good reason.
"Canton Junction" actually means when good things come together. Who would have thought to combine a sixth-generation pastor, a former brick layer, a Grand Ole Opry performer and a small town quartet guy to create a dynamic musical sound and ministry team? Bass singer, Tim Duncan knows.
"Several years ago I was going through the darkest time of my life. It was after I left Ernie Hasse and Signature Sound and I didn't know where I was going or what I was going to do. At that time, God could see ahead! He could see me thriving with this group under the umbrella of Pastor Hagee. God is faithful."
Each member has a story of how God arranged their lives to connect, but there is no doubt, Canton Junction is a God-thing. The guys are in agreement that music is the means of touching lives. "People can expect to have their hearts lifted when they see us in concert," baritone, Ryan Seaton says.
Tenor, Matt Hagee continues, "We're going to do everything we can to give audiences the opportunity to escape whatever is bothering them at the moment and remind them that God is still on His throne and everything is going to be alright."
Casey Rivers, the new lead singer adds, "And personally, it's my mission to share the joy of my salvation with folks through song. In Psalms it says, 'Restore unto me the joy of my salvation,' and we all need revival in our lives. It doesn't have to happen at a church or under a tent- it can be at a Canton Junction concert!"
Industry peers and fans are embracing Canton Junction. The quartet's first release, CANTON JUNCTION, garnered a GMA Dove Award for Southern Gospel Album of the Year, and celebrated two chart-topping singles, "Hold On," and "Sweeter as the Days Go By." The group was named Favorite Southern Gospel New Traditional Quartet at the 2015 Singing News Fan Awards.
Canton Junction's latest CD, EVERY HALLELUJAH, debuted at #1 on Nielsen SoundScan's Southern Gospel Overall chart. It also debuted in the Top 20 on Billboard's Top Current Contemporary Christian chart, as well as the publication's Top Christian Albums Overall chart.
EVERY HALLELUJAH is the first recording to feature the new members. "This is a new venture for me. I've always been a lead singer, not baritone," Seaton commented. "But I was at the point  where I was looking for something like this where I could do what I love, but not do it full-time. When asked if I would be willing to take the baritone part I told them I had been praying for an opportunity. The good things is, when there are songs that lean more toward my vocal capabilities, they're not afraid to throw me the ball. That's a good feeling, and it helps us with the blend by giving us more options."
"And as far as Casey goes," Seaton continues, "There's a lot he can do stylistically that some people cant. He definitely has a great country sound."
Besides singing, the guys have a lot in common. They all love the outdoors. They enjoy sports, hunting, fishing and most anything that requires them to be outside. Even work! "I love yard work," Duncan says! "And I used to be a brick layer for 15 years before I started singing. Every once in a while, I will go out and help a crew because hard work is good for you!"
The guys also love their families. "Everyone is a family man," Ryan explains, "We are all married, have kids and are all on the same page. When one guy is going through something, there's one that's been there that can lend a hand, a shoulder or advice."
Another common thread- They love their job. Not traveling full-time has its obvious advantages, but working with the Hagees is great."Matt Hagee is a great guy to work for," Seaton shares. "He's very open and very easy to get along with. It's really a great situation."
Working alongside Pastor John Hagee has benefits as well. "One lesson I've learned from him is, 'Do Not Worry,' Duncan tells. "He says we have the Word of God and that is the INSPIRED Word to go by. And in the Word, God says He has everything under control. God also says we are in the palm of His hand. So don't worry!"
Eyes are on Canton Junction and should stay because God is doing great things. "All of us are deeply passionate about seeing lives changed," Seaton shares. "When four guys that care deeply about that only good things can happen."
Duncan adds, "We want you to keep an eye on us so that you'll really listen and hone in to the lyrics of the new songs on the record. The songs will help you. We're covering  deep subjects and we are sure these songs will lift you up and point you to Christ."
Tim Duncan is right. The songs on EVERY HALLELUJAH, produced by Garry Jones, hit straight in the heart. With songs written by writers like Sue C. Smith, Dottie Rambo, Kenna Turner West, Lee Black and Ronny Hinson, that is bound to happen. In fact, so much good is to be said about this album, a separate review was written. http://afrontrowview.com/reviews/item/excellent-on-every-level
Keep watching for good things from Canton Junction. They are thriving and as Tim Duncan says, the sky is the limit! Connect with them on Facebook and Twitter and visit differencemedia.org.