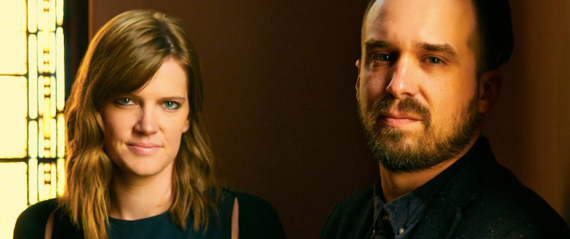 There are occasions in life when one can observe "Christian activity" from a distance and safely conclude that God is absolutely in the middle of it. After researching and intentionally listening closely to the music of All Sons and Daughters, I sensed that God has been and is using this duo to accomplish special purposes. And… after spending a few minutes on the phone with David Leonard of All Sons and Daughters, I am sure God will continue to use their musical and creative writing talents to create something special that will continue to bless the world.
For the Christian music fan, the over-all sound of All Sons and Daughters could be described as unique, but comparable to Mumford and Sons, The Avett Brothers, The Civil Wars and more. The music is refreshingly different with it's modern-folk edge, but the vocal blend of Leslie and David are— in this writer's opinion, is what makes their sound so special. Their voices are perfectly compatible and strikingly complimentary—definitely a vocal match made in heaven. "It's one of those things that even we shake our heads about it sometimes," David admits. "We feel God is doing something really special by putting us together and we love getting to sing together."
In 2009, Leslie Jordan and David Leonard starting singing and writing together in their home church and never dreamed their music would land outside the church walls. "For us it was about creating songs for our community, for our body," David explains. "It wasn't our intent that any of this would go anywhere. We had no idea that would happen. We have tried to write songs that speak truth of where we are and what we find in Scripture. It is kind of crazy to see what has happened over the last seven years."
What has happened over the last year year is somewhat of a whirlwind. Seven critically acclaimed albums including Poets & Saints, All Sons & Daughters, All Sons & Daughters: Live, Season One, The Longing, Brokenness Aside, and Reason To Sing have garnered numerous honors as well as GMA Dove Award nominations. Songs such as"Brokenness Aside" and "Great Are You Lord," that emerged from these earlier recordings are frequently sung in churches across the nation.
In 2017, Poets & Saints was nominated for a GRAMMY® marking the second career Grammy® for the duo. "We were just blown away," David says. "There is no way that we thought this would ever happen. Yeah- we're just kind of speechless about the whole thing. We are thankful to be included to be in this category with these guys and amazed that the piece of art that we created has impacted people. It is a huge honor and we are humbled to be a part of it."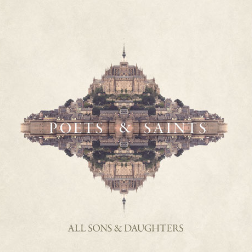 This GRAMMY® nominated project, POETS & SAINTS, is exactly that—a project. A project like none other can be added with fairness. It was carefully thought out, planned, executed and extended for maximum impact. A worship album AND Bible study curriculum resulted.
The idea originated out of a simple study of actual poets and saints that had made their mark in church history. Some names like "C.S. Lewis" most people would know, but others played a behind the scenes role. Both had a huge influence in shaping the church. It was in investigating the stories of these poets and saints that led to the project. "We asked, 'What is it behind those people and stories that still move us today,' David explains. "Why are we still inspired by those people? Why are we still looking at their lives and still challenged by them? What is it about their stories that still transcends to today?"
These questions and ideas ended up as conversations with Leslie's and David's pastor, Jamie George, who happened to be considering teaching on church history at the time. Those driving questions and conversations prompted an excursion of answer finding.
David, Leslie, along with their pastor, their families and a few more team members traveled over-seas on a mission. Leonard says he knew it was a God-thing. "Going in to this, the expectation was simply just to dive into their stories and see what we could find. We had no idea what we were going to find at the beginning of it, we were open-handed. We prayed, 'God, we feel like you're leading us in this direction to listen to stories and re-tell them. We just want to be faithful to you in this.'"
In order to narrow down which stories to investigate, hours of research took place before the trip. Once the team was in place, the story chasing was a matter of prayer Leonard says. "We just said, Alright— show us God. Show us who you want us to look at!"
The lives of CS Lewis, St. Augustine of Hippo, John Newton, William Cowper, and St. Francis of Assisi were among those examined and what the research team found was surprising. "What we found through it was permission to feel the things we ourselves have actually felt which is self-doubt, lack of faith, and just the need of God," Leonard shares. Those feelings and ideas ended up being represented in the songs written for the record.
Another conclusion was that a lot of these poets and saints had people in their paths that inspired them along their journey. "CS Lewis was strongly inspired by a man named George McDonald," Leonard says. "Learning about what inspired these people opened a deep well and caused us to ask, 'what is going on here?' The fact of the matter is that we all are inspired and challenged by other people and the hope is that we will continue to inspire by continually learning and continually growing. We need to encourage others to share the stories of others and their own."
A variety of sounds were collected as part of the information gathering and some eventually landed on the recording. "We found this sampler called an OP-1," David explains. "It records sounds, but spreads it out over a keyboard actually turning it into an instrument. It's kind of crazy. We recorded sounds from the ocean, sounds of boot stomps from Willian Cooper's floor and other random sounds such as doors handles, chains and lighters found in a parking lot. I didn't really know if any of it would even work, but I wanted to capture it just in case. It was really kind of fun to make those pieces fit and see what we could create out of it."
Along with the creation of new songs, a Bible study companion was created complete with a book and video series. David says the response to the study has been positive. "We've done it with our worship team here at church. Our individual small groups have gone through it and we've found there is a lot of life in it. One of the things our pastor has always said is 'vulnerability breeds vulnerability.' That's something we tried to do with this project and we feel like it's given people permission to dive into the same places."
It took about two years for Poets & Saints to come to fruition and now All Sons and Daughters is taking time to rest. "We worked real hard last year. We toured and with putting out the record, the small group curriculum, and the book, it just turned out a lot bigger than we expected. When we started looking at 2017, we knew we needed rest and a time to allow ourselves to get filled back up a bit. We hope to start writing and recording and maybe do some more dates, but right now, we're just enjoying the rest." As Leslie and David are in a season of rest, they are involved serving their local church in Franklin, Tennessee as worship leaders.
To learn more interesting details about the process of Poets & Voices as well as more information about All Sons and Daughters visit: http://allsonsanddaughters.com. Information regarding the companion book, Poets and Saints: Eternal Insight. Extravagant Love. Ordinary People, as well as the video study is available on the website as well.