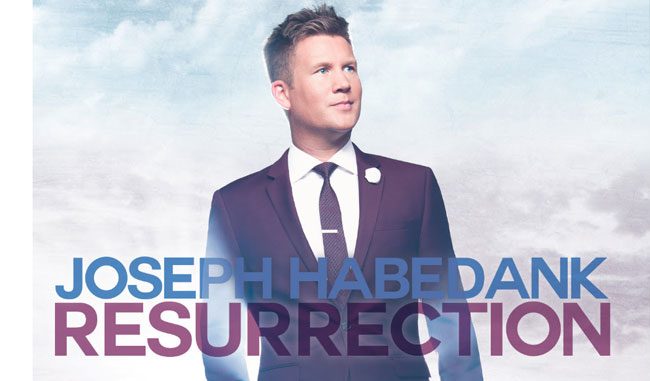 Hendersonville, TN (March 10th, 2017) – Daywind Records is proud to announce the release of Resurrection from award-winning singer/songwriter Joseph Habedank. Produced by Wayne Haun, this sophomore project follows Joseph Habedank's solo debut, Welcome Home, which yielded the artist two Top 5 singles.
While the lyrics of Welcome Home speak of redemption and second chances, Resurrection triumphantly sings victory over sin, death and the devil through Christ. Acclaimed songwriters such as Lee Black, Tony Wood, Chris Cron, Gerald Crabb, Jimmy Yeary, Michael Farren, Wayne Haun and Joel Lindsey, among others, teamed up with Habedank to craft ten brand new songs, including the first radio single, 'Here He Comes.' Much like Welcome Home, Resurrection covers a range of musical styles, from the gently reflective 'Just When You Thought,' to the southern rock-infused 'Jailbreak' and gospel inspired 'I Believe In The Resurrection.'
"Joseph is one of the most gifted artists in Christian music," offers Scott Godsey, VP of Daywind Records. "He co-wrote every song on this recording with the best songwriters in Nashville, and it really is a collection of top shelf material that we hope will encourage listeners. His vocal ability paired with great arrangements is sure to make this a mainstay project for years to come!"
To celebrate the release of Resurrection, Joseph Habedank will be holding a Q&A session on Facebook Live tonight, Friday March 10th, at 7:00 pm EST. Fans are invited to tune in on his Facebook page and ask Joseph questions on the live feed, as he shares about this new project and the stories behind these incredible songs.
Resurrection is available to the Christian marketplace exclusively through New Day Christian. Mainstream and digital distribution are provided by Sony RED.
Daywind Records is home to an award-winning roster of artists, including Legacy Five, Adam Crabb, Browders, The Hoppers, Jim Brady Trio, Greater Vision, Joseph Habedank, Karen Peck & New River, Second-Half Quartet, Bowling Family, Tribute, Nelons, Brian Free & Assurance, Blackwood Brothers Quartet and Wilburn & Wilburn. Daywind is distributed to retail through New Day Christian Distributors, Sony Red, and all major digital outlets, including iTunes.
For more information, visit www.daywindrecords.com or contact Dani Phillips at publicity@daywind.com.
For more information on Joseph Habedank, visit josephhabedank.com.