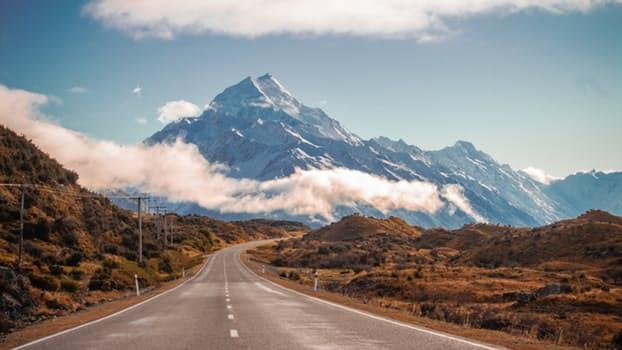 Have you ever really looked at a mountain range? The spikes stretch toward the sky in praise, and without ever having set foot at the top you know it'd have an incomparable view. The valleys sink as deep as the peaks reach high, and you can't have one without the other or you'd merely be staring at a plateau. A climb to the top and the descent to the base seem to take so much longer than the time spent in the clouds.
Life's quite like that mountain range. We talk about it in terms of peaks and canyons, but if we're honest most of life is a valley, isn't it? We even have clichés for the basins that last infinitely longer than the summit-moments. "When it rains, it pours" and "If it's not one thing, it's another" and "I'm between a rock and a hard place" and "It was a perfect storm."
If I had my way, we'd all live on the sunny peaks of life, those close-to-God, on-top-of-the-world moments when you take a deep breath and nearly forget to look back at the trek you just forged and see that the valley you survived makes a strange sort of sense. Mostly all you can focus on is the view from the top.
The problem with living at the peak experiences lies in our ability to forget Who helped us on our hike to the top. Don't you cry out to God louder and longer in the canyons? Aren't your prayers, pleas, and praise increasingly reverent and intentional? Isn't your devotional time more intense? We ask others to pray for us, engage in "pray[ing] without ceasing (1 Thessalonians 5:17), listen to worship music, draw nearer to His presence, attune our ears to the Holy Spirit, and walk more closely with the Lord. That's likely why peak occasions are so short and few.
The canyon I'm in right now seems damaging to the spirit and achingly prolonged, and I don't know how long it'll take to reach the summit I know sits somewhere on the horizon. Maybe you can relate. Let's keep reminding ourselves that, if we cling to Him, these times allow God to shine ever brighter through our lives. Like the apostle Paul declared in 2 Corinthians 12:9-10, "He said to me, 'My grace is sufficient for you, for my power is made perfect in weakness.' Therefore I will boast all the more gladly about my weaknesses, so that Christ's power may rest on me. That is why, for Christ's sake, I delight in weaknesses, in insults, in hardships, in persecutions, in difficulties. For when I am weak, then I am strong."
We strive for the peaks, but the struggle, the aches, the work it takes to arrive there is where our growth with God happens. Like that mountain range, if we have one without the other, we plateau. So until I reach the next summit, I'll keep wrestling with the Lord. After all, He's got me right where He wants me.