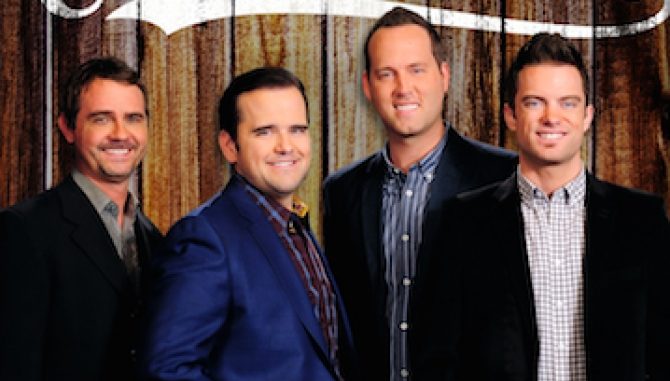 I have found a CD that its excellence is equally matched and balanced in every area- vocally, musically and lyrically. I listened to Canton Junction's new release, EVERY HALLELUJAH four times before I wrote this review. The first time was the initial overview, the second, I listened to the vocal blend, the third was to analyze the music and the last time I focussed on the lyrics. This album is amazing on all levels.
Vocally…It appears to me the newbies, Casey Rivers and Ryan Seaton, have nestled themselves in between Matt Hagee and Tim Duncan and made themselves right at home! The album highlights the versatility each of the four guys bring to the table and showcases the incredible sound of the intricate harmony these guys create together. The solos are distributed well and suit each personality and vocal capability and strength.
The music… Some songs display steel guitar and a country flair while others feature trumpets and strings, but the musical arrangements were obviously masterfully planned and executed by producer Garry Jones. The music on every single song is different, absolutely fantastic and is a perfect marriage for each lyric. That is cool!
The songs… EVERY HALLELUJAH is a collection of 13 songs including timeless classics such as Mosie Lister's "The King and I" and Dottie Rambo's "When I Lift Up My Head." The original songs are written by Christian's music's best of the best: Kenna West, Sue C. Smith, Michael Farren, Jason Cox, Lee Black, Ben Storie, Ronny Hinson and more. I found the lyrics to be stirring, deep and powerful.
Some songs provoked immediate tears. Ironically, one was "Weep No More." The music was so moving and the lyrics so descriptive, chill bumps popped up on my arms and tears dripped off my cheeks before I realized it.
Another favorite is "Living For Heaven." This song is perfect to be used in special church services to honor servants of God, but it also nailed the cry of my own heart. The song is about living life each day with eternity in mind.
"I Am" called for me to shout praise! This song is as powerful as S.M. Lockridge's sermon,"That's My King!" Another praise provoking selection is "Every Hallelujah." The Cornerstone Sanctuary Choir featured on this one is just the perfect touch.
A few tunes prompted a smile and foot tapping, such as "Tumbling Down," "It Wasn't Raining," and "I Need A Little More Jesus."
This album took my emotions on a roller coaster ride while taking my eyes straight to Jesus and my ears right on to heaven. Incredible songs sung by the top vocalists in the business accompanied by great music makes EVERY HALLELUJAH an album to add to your collection… IMMEDIATELY!