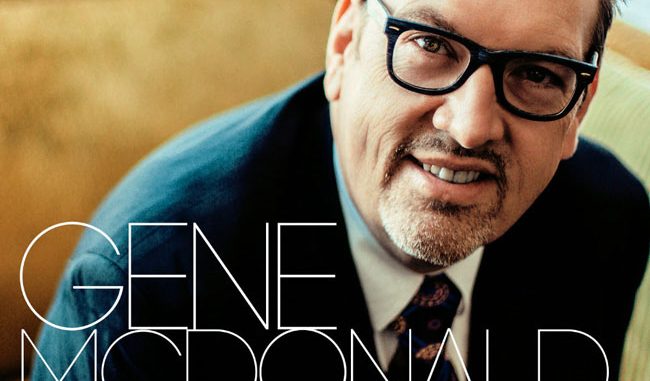 Hendersonville, TN (January 25th, 2017) –While bass soloists are few and far between, beloved Gaither Homecoming artist Gene McDonald has proven that bass singing does not belong solely in a quartet.  Having began his career in gospel music singing with his family, The McDonalds, Gene went on to spend time with the Plainsmen Quartet and, most notably, the Florida Boys before becoming a featured soloist on the Gaither tour. His latest release, entitled Reflections, embraces his signature bass vocals while delivering striking renditions of Gospel classics, mixed with a few surprises.
Produced by Kevin Williams, Reflections is a labor of love that included contributions from a number of the Homecoming friends. Lending their talents to this project are artists such as Joyce Martin Sanders (The Martins), Becky Isaacs Bowman (The Isaacs), Charlotte Ritchie, Adam Crabb (Gaither Vocal Band), Angela Primm, Shane McConnell, Devonne Folkes and Reggie & Ladye Love Smith. Recording songs like 'I Walked Today Where Jesus Walked' and 'Stand By Me' allowed Gene to reminisce on the music that has held a special place in his heart, while newer songs such as 'Hallelujah For The Cross' look to the future. His first radio single from the CD, 'This Ole House,' pays homage to the legendary artists that have recorded the classic before, while offering that unique stylistic stamp that makes it undeniably Gene McDonald.
"I have never been as excited to present a collection of songs as I am about Reflections," shares Gene McDonald. "So many people have pitched in to make this release special, and their excitement is contagious.  Thank you to Daywind Records, New Day Christian Distribution and Surge Artist Solutions for your partnership and support of this project. I am anxious to get this new music out to as many listeners as possible!"
Reflections is available at Christian retail stores across the country and digitally at iTunes and other outlets.  Bulk purchasing for gift and ministry purposes is available by calling 1-800-635-9581.
Daywind Records is home to an award-winning roster of artists, including Legacy Five, Adam Crabb, Browders, Jim Brady Trio, Greater Vision, Joseph Habedank, The Hoppers, Karen Peck & New River, Michael English, Bowling Family, Tribute, Nelons, Brian Free & Assurance, Blackwood Brothers Quartet and Wilburn & Wilburn.  Daywind is distributed to retail through New Day Christian Distributors, Sony RED, and all major digital outlets, including iTunes.
For more information, visit www.daywindrecords.com or contact Dani Phillips at publicity@daywind.com.