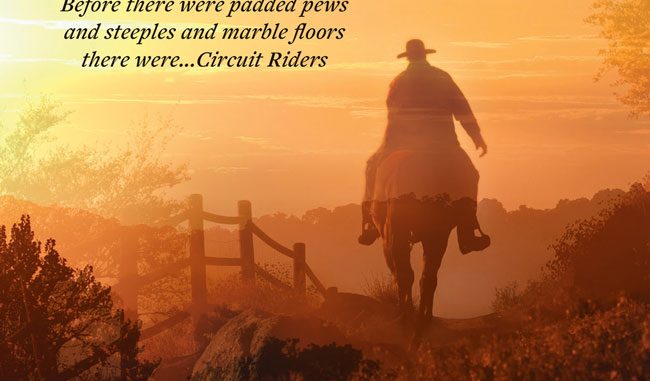 NASHVILLE, Tenn.—November 7th, 2016 — Gaither Music Group's all-new Circuit Rider DVD rode straight to the top of this past week's Billboard Music Video chart in addition to the Christian Music Video chart, according to Nielsen Soundscan, garnering the #1 position on both. The audio version of the docu-musical also claimed the #1 position on the Southern Gospel Album Sales chart and a Top 20 spot on the Contemporary Christian Music chart.
"This project has been a labor of love and a long time in the making," stated Circuit Rider's co-creator Suzanne Jennings.  "We feel excited and privileged to be releasing this docu-musical honoring the great men and women who laid the foundations of our faith here in America."
The recording features vocal performances from some of the most celebrated talents on the Gaither HOMECOMING stage, including Guy Penrod, Russ Taff, William Lee Golden, Gloria Gaither, Lynda Randle, Tanya Goodman Sykes, Mark Lowry, Benjy Gaither, Woody Wright, Buddy Greene, Judy Martin Hess, The Isaacs, Joy Gardner, Reggie Smith, Charlotte Ritchie, Angie Primm, Michael Sykes and more.  The DVD is hosted by former governor of Arkansas, talk show host and presidential nominee Mike Huckabee.
Created by Jennings and Woody Wright, Circuit Rider is the real-life account of the spiritual formation of a nation and the church we have today shaped in part by the dedication and vision of these circuit riders.  These musical performances and readings, sung and read by some of the most well-loved gospel artists, tell the story of these preachers who blazed the trail to share the gospel of Jesus with people of every race and nationality living in little towns and settlements across the nation.  These brave men and women, from every denomination and creed, understood the meaning of perseverance and sacrifice.  Their stories are not often told, but they are as much a part of the American landscape as Mt. Rushmore and the Grand Canyon.
That story of hardships, revivals, baptism, sanctification and suffering is captured through this release, which is currently airing as a TV special on a large number of networks including PBS, DirecTV, Dish TV, AT&T U-verse, TBN, RFD, GaitherTV, FamilyNet, CTN, GMC, GMTN, Guardian, Liberty, TCT and TLN. In Canada it is airing on Vision TV, The Miracle Channel, CTS and Hope TV.
Gaither Music Group brought in the esteemed Michael Merriman to direct the filmmaking, and he and Stephanie Reeves produced the LIVE performances taped at Fiddler's Grove Historic Village in Lebanon, Tennessee.  Jennings and Michael Nolen teamed up for the screenwriting.
Circuit Rider is exclusively distributed by Capitol Christian Distribution and is available throughout general market stores and the Christian marketplace in addition to online retailers including iTunes, Amazon and www.gaither.com.
To enjoy a promotional video of the DVD, visit:
https://www.youtube.com/watch?v=k25VjtnWsOc<
CD and DVD SONG LISTING:
01. Burnin' (featuring Guy Penrod)
02. Circuit Rider (featuring William Lee Golden & Russ Taff)
03. The Raven (featuring The Isaacs)
04. Bluegrass Moon (featuring Buddy Greene)
05. I'm the Clay (featuring Judy Martin Hess/Charlotte Ritchie/Tanya Goodman Sykes)
06. Mine All Mine (featuring Lynda Randle)
07. We Go Alone (featuring Joy Gardner & Woody Wright)
08. So Many Miles (featuring Reggie Smith)
09. The Old Man (featuring Benjy Gaither)
10. Refining Fire (featuring Michael Sykes)
11. Against the Grain (featuring Mark Lowry)