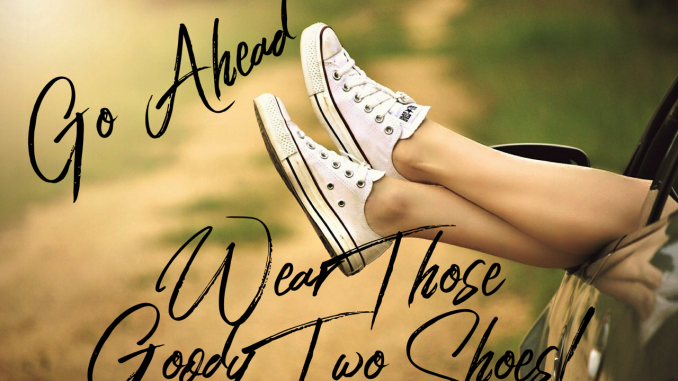 Not too long ago I had a so-called friend to take a jab at me for doing the right thing. Needless to say, it ruffled my feathers.  Like everyone else these days, I was tempted to run to my platform and post to the world. I wanted to say, "I'm not apologizing for setting my face like flint and standing squarely in my "goody-two shoes" with my arms crossed! And, I'm not sorry for hoping in the blessings to come for doing so. I refuse to climb in the ditch with misery. It may love company, but I know for a fact, it doesn't love me." 
Some people obviously misunderstand holiness. People think living a lifestyle of holiness deprives, but it actually spares us the natural, awful consequences of selfish and sinful choices. One blessing of holy living is a clear conscience—which is priceless by the way! Holy living also positions us for God to use us for tasks that truly bring Him glory.
I have found some people won't understand when you live with the top priority of pleasing God in all you say and do. They will poke fun and criticize. They will say that you think you're "too good." Well, you are. Remember you were good enough to be bought with a dear, precious price—Jesus blood. It's ok to cherish it! We should.  And…Jesus did asked a few things in return: To follow Him, to love Him and to be holy. He was not suggesting. So…. Yes, we should press toward the mark! It certainly is a high calling and whatever you do, don't fall for the lie that it is impossible. 2 Peter 1:3 says, "By His divine power He has given us everything we need for life and godliness through the knowledge of Him who called us by His own glory and excellence."
I have learned it is totally possible to be humble, but confident in the Holy Spirit's empowering ability to help us live in a way that we can say like Paul…. "Imitate me." In fact, there are a lot of places in scripture that tell us we should be role models. Take a look: I Cor. 11:1, "Imitate me (me-Paul, a human) as I also imitate Christ." Philippians 3:17, "Join in imitating me, brothers and sisters and pay careful attention to those who live according to the example you have in us." Philippians 4:9, "Do what you have learned and received and heard from me and seen in me and the peace of God will be with you." 2 Thessalonians 3:7a, "For you yourselves know how you should imitate us." And… check out 2 Timothy 3:10, AND 4:12. Read more examples in Titus 2:7-9, and Ephesians 4.  Unfortunately, too often I've heard Christians say, "Don't look at me, just look at Jesus." I get that, but some people hide behind the mentality of "I'm just human" to excuse their lifestyle of sinful behavior—a/k/a ditch dwelling.
I am also learning the road of holiness is sometimes lonely. But- that's ok! Honestly, we should be so enamored with God's love we should sing— "Though none go with me, still I will follow…" Nothing compares to His love! The truth is, some people aren't happy in the ditch alone, and it is their life's purpose to get you to fall in with them. I can't stress this enough… The pleasure of sin is grossly and disturbingly overrated and is definitely not worth forfeiting or postponing the blessings and rewards of holy living.
God has special tasks in mind for those who keep themselves pure! "Now in a large house there are not only gold and silver vessels, but also those of wood and clay; some for honorable use and some for dishonorable. So if anyone purifies himself from anything dishonorable, he will be a special instrument, set apart, useful to the Master, prepared for every good work" (2 Tim.2:21)! I don't know about you, but I want to be a special instrument!
It amazes me that people will live in the ditch and believe God will still use them—after all, He used a donkey once. Well guess what… that happened around 1407 BC, and how many have been born since then? Why live like a donkey waiting on that chance for God to use you in spite of?
I've also heard people say- "Don't judge me" as they point out how King David was a man after God's own heart. Yes. And I am thankful. But let's not forget other facts of the story. Nathan called David out on His sin. David genuinely repented—read Psalm 51— and David still suffered great, heart-wrenching consequences. My point is… don't use biblical examples to make excuses for carelessness and sin. It doesn't matter if you've not done anything comparable to David; we should compare ourselves to God's standard of holiness anyway.
I know, I know…I'm not saying we shouldn't love ditch-dwellers, but scripture is clear that we are to have nothing to do with people that hold a form of godliness, yet deny it's power (2 Timothy 3:1-5).  So, go ahead and wear those goody-two shoes as you walk humbly with your God. Now is the time to determine to live God's way and get into position so that He can work through you. If you do this, you'll enjoy guilt-free living and will be positioned to partner with God in eternal Kingdom work. So what if you lose a few "friends" along the way? The blessings of God are real and totally worth it. And besides… real friends don't lead friends to ditches! Believe me, you're not missing anything. Remember, misery loves company, but it doesn't love you. Jesus does. 
Perhaps you're reading this thinking it's a little too late. It's not. Get up, grab His hand and get out of the ditch and stay out! God has great things in store for you! It is never too late to pursue righteousness. The best part is, the Lord is willing and anxious to help you every step of the way.
I challenge you to pursue holiness in 2020. If you're called a goody-two shoes, just know those shoes will keep you on the right path until the day you stand all by yourself, squarely on your own two feet to give an account to God for the choices you made on this earth. Until then be like Isaiah. "Because the Sovereign LORD helps me, I will not be disgraced. Therefore, I have set my face like a stone, determined to do His will. And I know that I will not be put to shame" (Isaiah 50:7).