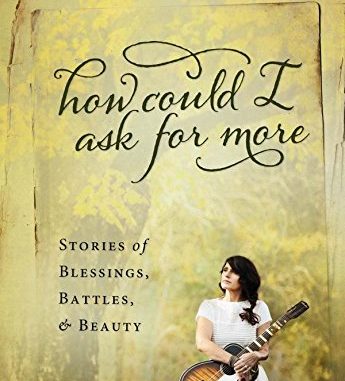 Two-time GRAMMY nominee and 12-time Dove Award winner, Cindy Morgan released "How Could I Ask For More- Stories of Blessings, Battles & Beauty" on August 4, 2015.
Inspired by her signature song, "How Could I Ask For More," the book is a collection of true stories of Morgan's seasons throughout her life. She transparently tells about her modest upbringing in rural Tennessee, her Christian music career as well as stories about personal relationships. The overall theme is about cherishing the important things in life.
Cindy Morgan is an excellent story teller. In the 29 chapters, she tells about real-life situations that prompted feelings everyone has faced or will face at some point. She touched on fear, disappointment, loss, grief, forgiveness as well as the joys in life such as marriage, friendship and motherhood.
The book itself is beautiful inside and out. The cover design makes the book a nice coffee table display. On the inside at the beginning of each chapter, personal pictures add a nice touch. There is also a section in the back to describe each photograph in detail.
The book is a great read for those of us struggling with priorities. Honestly, it is easy for all of us to become unbalanced! Personally speaking- Reading this book helped me to slow down, find peace with the calling on my life and to enjoy and nurture the beautiful gifts of faith and family that God has given.
Overall, "How Could I Ask For More" challenges readers to clean out the chaos in our lives by seeking first the Kingdom of God. The other challenge is to embrace and appreciate the things that are added unto us. Those things are the absolute most important things in life. By doing this we will find contentment and fulfillment as we live a life of purpose and grace. How could we ask for more?