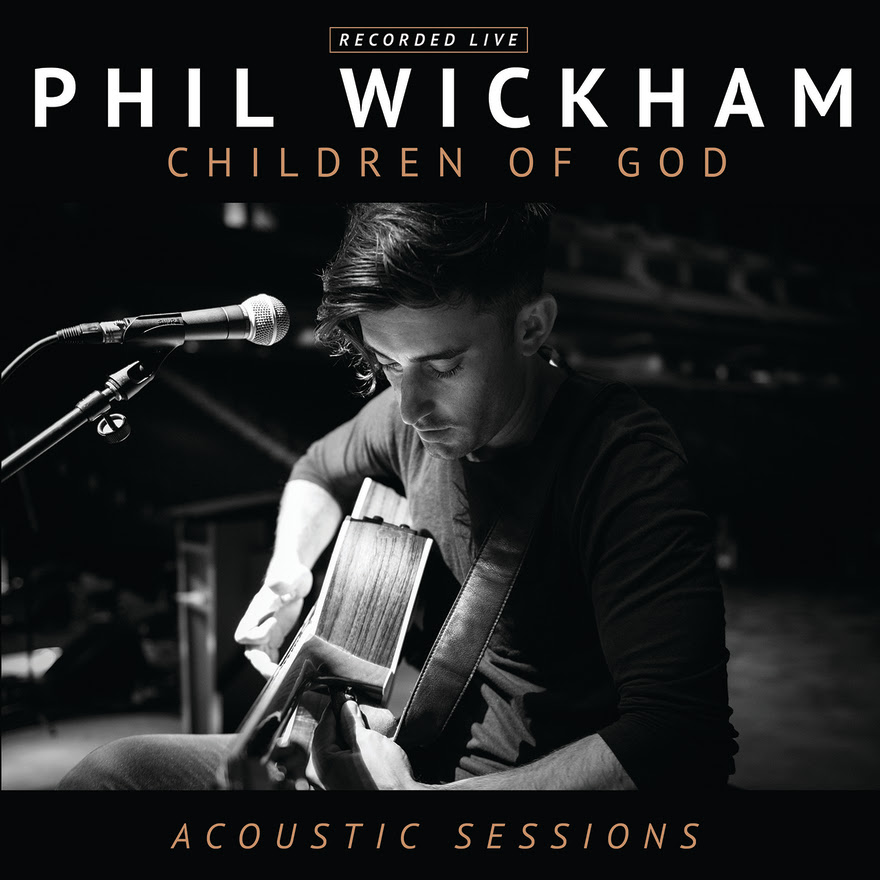 Nashville, Tenn. (Oct. 14, 2016 ) – With his spring release of Children Of God called "Phil Wickham at his best" (Worship Leader) and "a welcome truth for all of us" (CCM) by critics, Phil Wickham is releasing Children Of God: Acoustic Sessions today.
In response to a high demand from fans, Wickham has created a stripped down version of Children Of God, including three additional bonus tracks "Foot Of The Cross," "Here With Me" and "Divine/Sailing/Time/Hymn" that showcase the power of his voice and the heart of the songs.
Acoustic performances of "As It Is In Heaven," Doxology//Amen," "My All In All," "Children Of God," "Your Love Awakens Me" and "The Secret Place" from the album are available on Wickham's VEVO page.
Wickham began his nationwide "Children Of God Tour," featuring special guests Stars Go Dim and Micah Tyler, earlier this month. For more information on Wickham's headlining "Children Of God Tour," visit www.philwickham.com/tour.
Phil Wickham's Children Of God: Acoustic Sessions is available at iTunes, Amazon, Spotify and Google Play.
Children Of God: Acoustic Sessions Tracklisting
1. Doxology//Amen (Acoustic)
2. Better Than Life (Acoustic)
3. Your Love Awakens Me (Acoustic)
4. Secret Place (feat. Madison Cunningham) (Acoustic)
5. Wide Awake (Acoustic)
6. My All In All (Acoustic)
7. Starmaker (High Above The Earth) (Acoustic)
8. Children Of God (Acoustic)
9. Stand In Awe (Acoustic)
10. Body Mind And Soul (Acoustic)
11. As It In Heaven (Acoustic)
12. Spirit Of God (Acoustic)
Bonus Tracks
13. Foot Of The Cross (Acoustic)
14. Here With Me (Acoustic)
15. Medley (Acoustic)
"Children Of God Tour" Dates
*special guests Stars Go Dim and Micah Tyler
October 6 – Celebration Church – Blountville, TN
October 7 – Richland Creek Community Church – Wake Forest, NC
October 8 – Landmark Church – Cincinnati, OH
October 9 – Christ Community Church – State College, PA
October 12 – St. George's Episcopal Church New York – New York, NY
October 13 – NewPointe Community Church – Canton, OH
October 14 – Eagle Church – Whitestown, IN
October 15 – Grace Christian School – Columbus, OH
October 16 – The Bible Chapel – Canonsburg, PA
November 3 – Christ Community Church – Tucson, AZ
November 4 – Calvary Albuquerque – Albuquerque, NM
November 5 – Scottsdale Bible Church – Scottsdale, AZ
November 6 – Valley Bible Fellowship – Las Vegas, NV
November 10 – Northside Christian Church – Clovis, CA
November 11 – The Packinghouse – Redlands, CA
November 12 – Skyline Church – La Mesa, CA
November 13 – Calvary Community Church – Westlake Village, CA
November 17 – Arcade Church – Sacramento, CA
November 18 – First Baptist Church – Eugene, OR
November 19 – Calvary Chapel of Reno-Sparks – Reno, NV
November 20 – Calvary Chapel San Jose – San Jose, CA
About Phil Wickham
Phil Wickham is, at his core, a humble and sincere artist who writes songs and worships God using the medium of music. It is with that brush that he paints images of a loving and creative God across the canvases of listeners' hearts and minds. The evidence of this gift has been apparent on all of his critically acclaimed efforts: Phil Wickham (2006), Cannons (2007), Heaven & Earth (2009), Response (2011) and The Ascension (2013), which debuted at No. 2 on the SoundScan Christian Albums Chart and in the Top 40 on the Billboard 200. His Gold-certified single "This Is Amazing Grace" gave Wickham his first career No. 1, holding the top spot on Billboard's National Christian Audience Chart for 13 consecutive weeks. The honors continued as the single was named Billboard's 2014 No. 1 Christian Airplay Song of the year and BMI's 2015 Christian Song of the Year. In addition to its success at radio, the song has become a beloved anthem in the modern church, increasing Wickham's recognition as a gifted artist and songwriter with a true heart of worship. His newest, Children Of God, was unveiled on April 22 with an acoustic session streeting in fall 2016.
Get Connected With Phil Wickham
www.philwickham.com