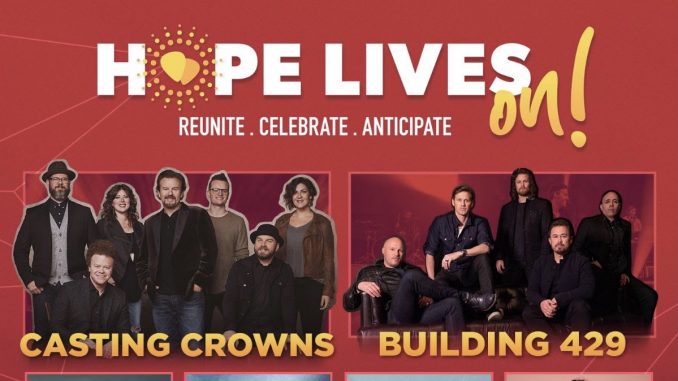 Nashville, TN – This Saturday, February 27, the Christian Festival Association (CFA) will present the Hope Lives On Virtual Festival. Presented in partnership with Eight Days of Hope, Compassion International, The Gospel Music Association, and more, the livestream event will feature performances by Casting Crowns, Skillet, for King & Country, Building 429, We The Kingdom, Rebecca St. James, speakers Eric Samuel Timm, John Cooper, and more.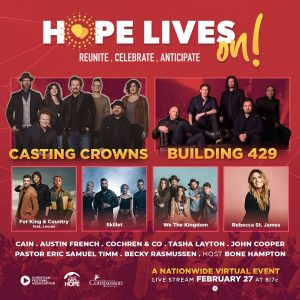 The Hope Lives On Virtual Festival will take place this Saturday February 27 starting at 7 PM Central and will be streamed for free via the Christian Festival Association's Facebook page and the Gospel Music Association's YouTube channel, as well as on many of the participating artists' and festivals' social media accounts. More information, including artist lineup announcements and ways to get involved, can be found at christianfestivalassociation.com.
"The CFA is again excited to be hosting a unified Nationwide Virtual Festival," said CFA Executive Director Julie Klinger. "This event is very special as it joins together Christian festivals, artists, and ministry partners across the country who are committed to giving glory to God, sharing the hope of Jesus, and calling believers to action. We hope you can join us, take advantage of some short-term festival offers and gather with your festival friends at watch parties across the country to anticipate gathering together again in person this summer on the Road to the Festivals."
"Eight Days of Hope is honored to sponsor the CFA's virtual music festival," said Steve Tybor, President of Eight Days of Hope. "As we travel the country to help people after natural disasters and build facilities for those rescued from sex trafficking, music helps bring us together. We can't wait for those who view the festival to be in encouraged through Gods word, song and be inspired to join ministries like Eight Days of Hope to love and serve those in need."
More information about the event can be found at christianfestivalassociation.com.