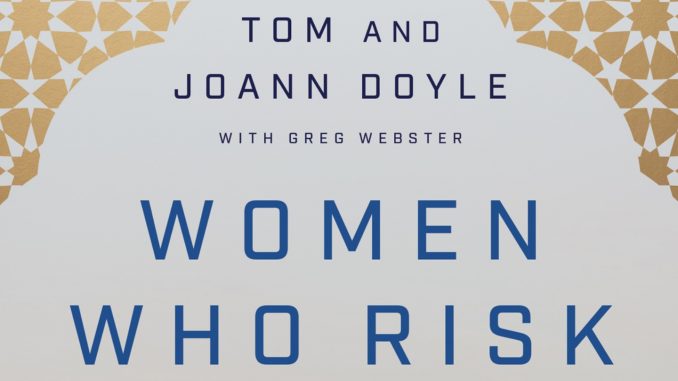 I am a female worship pastor tucked inside the comforts of the American church. I have no fear when it comes to ministering in America. Other than a little mild ridicule here and there, I live my faith out-loud and use many platforms to speak and sing about Christ. And, I've never worried that my head would roll because of it.
As a woman in ministry, I've endured my fair share of challenges, but I can't say my voice has ever been silenced. My overall privileges and lifestyle I enjoy as a female-American-Christian citizen could not be more polar opposite than the lifestyles of my Muslim sisters. Honestly, I had no idea how much so until I read WOMEN WHO RISK written by Tom and Joann Doyle. This book opened my eyes, moved my heart, changed my thinking, prompted me to pray and left me awe-stricken at God's activity in the midst of thick darkness.
Early in the book, the Doyles paint a bleak picture of what life is like for Muslim women. In the Muslim world, women have little to no rights and often suffer cruel abuse. Doyle writes, "Sex trafficking, forced marriages and child brides, molestation, rape, incest and female genital mutilation are just a few of the horrific abuses women endure within Muslim communities… The most overlooked, marginalized, and abused person within the religion of Islam lives behind the veil. The history of Islam is seething with mistreatment, cruelty, and a lack of rights for women." Unfortunately, this is sad, ugly and true. However, it seems Muslim women are questioning the meaning of their existence.  Doyle tells of one woman who asked, "Are women just born to be slaves, punching bags and baby machines? Is that our lot? Our calling?" It is in their world, and Muslim women are realizing their god, Allah, doesn't even care!
Doyle points out that while Satan is busy enslaving women, Jesus is busy setting them free. As they respond to His love, He sets their hearts ablaze. Doyle calls them an "unstoppable force in the Muslim world."
The Doyles interviewed several women and share amazing real life stories of how they came to Christ. These powerful testimonies describe their commitment to follow Jesus despite harsh persecution. Each count of heroism literally left me in tears. It was overwhelming to read about how these women experience deep abiding peace and overflowing joy despite their life-threatening circumstances. In fact, it is their transformed disposition that is reaching out to others! God is alive and well in the Middle East, and revival is spreading! Jesus is revealing Himself in dreams and visions communicating His love and acceptance. He is moving among women, and they are reaching their families, friends, and communities.
Reading this book challenged me to ask myself, "So what's your problem?!"  And by that I mean—Why do I get so bent out of shape if I feel I've been miffed as a woman? Why am I not as "on fire" for Christ? Where is my contagious joy? Where is my desperate hunger to meet with other Christians? Why don't I memorize the Bible? When was the last time I fasted and got down on my face for my lost loved ones? Am I willing to die for Jesus?
One courageous Muslim woman in the book asks, "As for me, I expect to die for Jesus. In the West, you probably won't have to die for Jesus. But….will you live for Him?"
     WOMEN WHO RISK stirs faith, challenges commitment to Christ and is a source of enlightenment as to what God is supernaturally doing to bring people to salvation. It is also a challenge to share the love of Christ with Muslims in America.
This book is definitely hard to put down and one to read and never be the same. Available now on Amazon. May God bless the secret agents in the Muslim World!