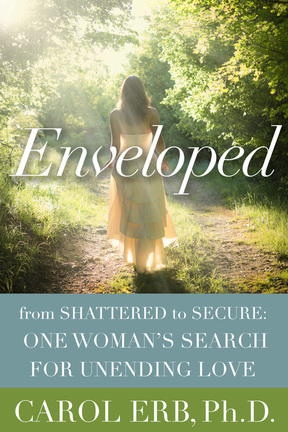 All one has to do is read a few statistics regarding marriage and divorce and it will be obvious…Marriage is hardly considered sacred these days!
One might think at least in Christian circles marriage would be held in high esteem. Not necessarily so. According to Barna Research, nearly one-third of people claiming to be born-again Christians admit to having extramarital affairs. A Christianity Today survey found that 23% of pastors admitted to sexually-inappropriate behaviors with someone other than their wives.
In her new book, ENVELOPED: From Shattered To Secure, One Woman's Search for Unending Love, Dr. Carol Erb tells her heart-wrenching story of infidelity and divorce.
The story starts with Carol's son discovering a matchbook in her husband's car. The matchbook led to shocking evidence that her husband (and father of their three children) was living a secret life. This other life consisted of promiscuity, carousing and infidelity and was the one he chose to keep over the life he had with her and the children.
When her husband refused to repent and seek help, Carol Erb's life seem to unravel. Devastated and confused, she turned to her church and to professional counseling for support. Sadly, she found no solace there. As she dealt with overwhelming grief and pain plus all the significant losses common with divorce, Carol finally turned to her faith. It was when she realized she was utterly powerless to change the situation, she chose to completely surrender to the Lord and really trust Him. When she did, Christ became her comforter, healer and best friend.
Perhaps the most important part of the book is where Carol Erb shares how the Lord took her brokenness and is now using her to help others. She tells the story of becoming Dr. Carol Erb and how she is helping couples deal with betrayal, and other marital issues.
This book is a great source of encouragement for those hurting. Dr. Erb tells her story transparently, so the raw honesty helps people identify with feelings of overwhelming pain. Her story is chock full of wisdom and hope that will certainly lift the spirits of those whose spirits have been crushed.
This is also a great resource for those working in ministry. Ministers can no longer pretend pornography addiction, infidelity and other independent behaviors are not happening in our Christian circles. The truth is, marriages are crumbling inside the church, but there is hope for healing and restoration through Jesus Christ.
For more information about Dr. Carol Erb, and to get a copy of ENVELOPED- From Shattered To Secure: One Woman's Search For Unending Love" visit http://drcarolerb.com.