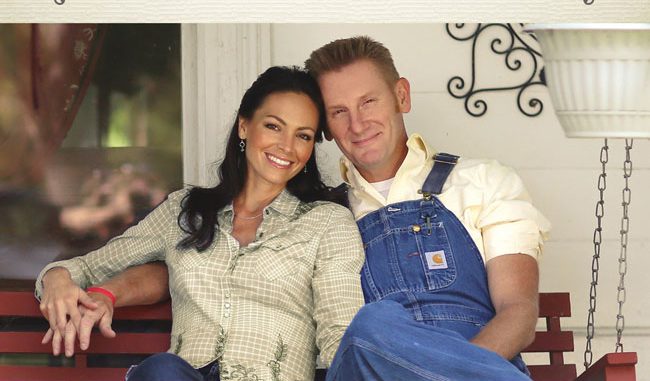 NASHVILLE, Tenn.—December 7th, 2016–Award-winning, husband-and-wife, country music duo Joey+Rory received a GRAMMY® nomination yesterday for Best Roots Gospel Album. According to the announcement from The Recording Academy, the couple have been honored for their top-selling Hymns recording (Gaither Music Group/Farmhouse Recordings), the first recording in nearly a decade to top both the Top Country and Top Christian Albums charts, according to Nielsen Soundscan.
"I can't begin to tell you how much this means to me and how much it would mean to Joey if she were here," stated Rory Feek.  "She was so proud of getting to make this record and living long enough to see it be released, and I'm so proud to see the hearts it's touched and the heights to which it's taken my wife and her sweet voice…even after she's gone.  God is so good."
Hymns, the #2 top-selling country album for the first half of 2016 according to mid-year reports, was among the Top 10 on the Country Music sales chart for 20 weeks and was in the Top 10 on the Billboard Top 200 for six weeks.  As of this summer, the recording, produced by Rory and Joe West ("When I'm Gone," produced by Gary Paczosa), was the 13th top-selling album for the year across all music genres.  In addition, the Hymns video landed in the No. 1 spot on the Billboard Music Video chart and also on the Christian Music Video chart for months.
For the past few years, Rory has poetically chronicled the couple's journey through highs and lows–from the birth of their daughter, Indiana, to Joey's battle with cancer, during which time they recorded Hymns.  Countless people from around the world have followed their lives through that blog at www.thislifeilive.com, where Rory has taken readers from the spotlight of the stage to the sunlight across Joey's vegetable garden, revealing their greatest joys and biggest disappointments. Their love story and walk of faith together have impacted countless people.
The Hymns CD and DVD have been featured regularly on TV networks including RFD, PBS, DISH TV, DIRECTV, AT&T U-verse, TBN, Family Net, CTN, The Walk TV (formerly Legacy), TCT and TLN and also in Canada on Vision TV, CTS, Grace TV and the Miracle Channel.  The DVD has also been featured on Gaither TV (available on DISH TV, Roku, Google and the Internet).
Hymns is exclusively distributed by Capitol Christian Distribution and is available throughout general market stores and the Christian marketplace in addition to online retailers including iTunes, Amazon, Walmart.com, crackerbarrel.com and www.gaither.com.  The audio recording is available at Cracker Barrel Old Country Store®.
The 59th Annual GRAMMY® Awards will be held on Sunday, February 12, 2017, at the Staples Center in Los Angeles, CA.
For further information regarding Joey+Rory, visit www.thislifeilive.com or follow www.facebook.com/joeyandrory or Twitter @joeyandrory.
ABOUT JOEY+RORY
Joey+Rory, a country music duo featuring husband-and-wife vocalists Rory Feek and Joey Martin Feek, spent years focusing on their individual careers; but they both realized they were stronger together which laid the groundwork for a collaborative songwriting and performing career. The new formation resulted in their debut on the CMT series "Can You Duet" in 2008, where they placed third and released their debut album, The Life of a Song, which won the 2010 Academy of Country Music Award for Top New Vocal Duo.
The GRAMMY®-nominated duo completed four seasons of their RFD-TV series, "The Joey+Rory Show," filmed in their community on their own soundstage built in the barn on their farm.  Known for their simple, authentic, country lifestyle of homegrown food, family and faith in Jesus, they were nominated for a 2016 ACM Award.   Kansas-born Rory Feek and the late Alexandria, Indiana-born Joey Martin Feek held a Farmhouse Concert Series on their soundstage for fans who traveled to see them from across the country.  The couple received their first GRAMMY® nomination and first GMA DOVE Award in 2016.
CD Song List:  Hymns (That Are Important to Us)
1. Take My Hand, Precious Lord
2. I Surrender All
3. He Touched Me
4. Softly and Tenderly
5. Jesus Loves Me
6. It Is Well with My Soul
7. The Old Rugged Cross
8. I Need Thee Every Hour
9. How Great Thou Art
10. I'll Fly Away
11. Jesus Paid It All
12. Suppertime
13. When I'm Gone
Produced by Rory Feek and Joe West
"When I'm Gone" produced by Gary Paczosa