Chicago, IL. July 6, 2017 – Cinedigm and Keep the Faith Distribution have announced the DVD & Digital release of THE UnMIRACLE, starring Kevin Sorbo ("Hercules", "The O.C.", GOD'S NOT DEAD), Stephen Baldwin (FAITH OF OUR FATHERS, God's Club and The Usual Suspects), Mitch Johnston ("Girl Meets World") and Amy Lyndon ("Ugly Betty," "Law and Order: LA").
Inspired by a series of true events, THE UnMIRACLE shares a series of 7 storylines that are intertwined after the drug overdose of the most popular girl in school. Exploring the values of honor, friendship, family and Christian faith, THE UnMIRACLE boasts that often the greatest miracles in life are often unseen.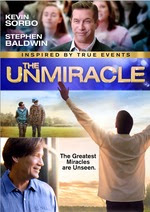 THE UnMIRACLE also stars Mitch Johnson ("Girl Meets World") and Daniel Fissmer (LINCOLN, "Grimm"). The film is the debut full-length project by writer and director Andrew Papke.
Follow THE UnMIRACLE on social media:
Facebook – https://www.facebook.com/theunmiracle
Twitter – https://twitter.com/TheUnMiracle
Instagram – https://www.instagram.com/theunmiracle/
Register to receive the latest news and information on THE UnMIRACLE:
About Keep the Faith Distribution:
Keep the Faith Distribution is a full service distribution company that specializes in the worldwide release of faith-based and family entertainment on all platforms and formats. Our main goal is to help independent filmmakers get their unique, inspirational and life-changing films viewed by as many people as possible and enjoyed by the masses.
Keep the Faith Distribution was founded by two industry veterans with years of experience and an incredible amount of passion for helping films reach their full potential. http://www.keepthefaithfilms.com/
About Cinedigm:
Cinedigm is a leading independent content distributor in the United States, with direct relationships with thousands of physical retail storefronts and digital platforms, including Wal-Mart, Target, iTunes, Netflix, and Amazon, as well as the national Video on Demand platform on cable television.
Additionally, given Cinedigm's infrastructure, technology, content and distribution expertise, the Company has rapidly become a leader in the quickly evolving over-the-top digital network business. Cinedigm's first channel, DOCURAMA, launched in May 2014, and is currently available on iOS, Roku, Xbox and Samsung, with additional platforms currently being rolled out. Cinedigm launched CONtv, a Comic Con branded channel, on March 3, 2015. The Company's third OTT channel, DOVE CHANNEL, launched on September 15, 2015 and is a digital streaming subscription service targeted to families and kids seeking high quality and family friendly content approved by Dove Foundation.
Cinedigm™ and Cinedigm Digital Cinema Corp™ are trademarks of Cinedigm Corp. www.cinedigm.com. [CIDM-F]