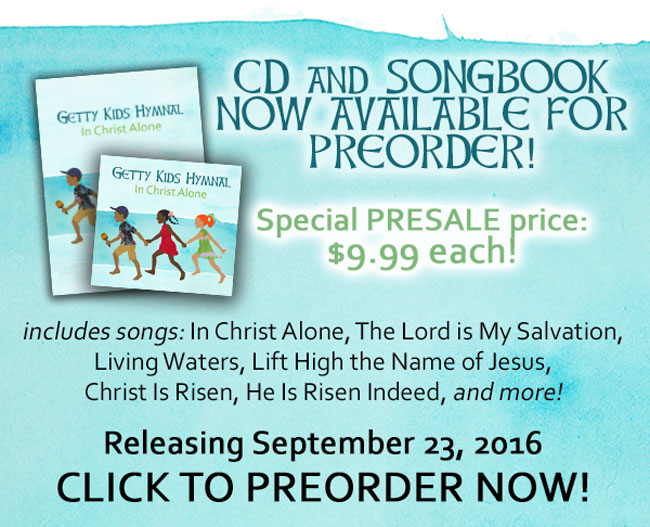 We are thrilled to be launching a new project called the Getty Kids Hymnal: In Christ Alone. Earlier this year we became challenged about teaching our own children hymns old and new and have been amazed to see how much even little children can hold on to, so we asked our Getty music band and a Nashville children's choir to come into the studio to record 12 hymns.
We are so excited to teach children the Bible, encourage them to sing [and sing in harmony!] and to also encourage artistic creativity through songs from teaching old hymns, unique musical arrangements and artistic challenges for the Children themselves. We've included some of our more familiar songs such as "In Christ Alone" and "Hear the Call of the Kingdom" as well as traditional hymns, including "Jesus Loves Me," Doxology," and "I Stand Amazed," and new hymns recorded specifically for this project.
C.S. Lewis, on his essay on writing for children, talked about how children do not learn like a train going from one station to the next and leaving things behind, but rather the way a tree grows by adding one ring at a time. Children don't have to understand everything initially, but the challenge is to make every ring of learning healthy and robust. We hope these hymns are helpful to you around your homes, in your cars and as you make music as well as in your churches with the hope that we will write on children's hearts words they can carry with them for life.
Grace and peace,
Keith & Kristyn Getty