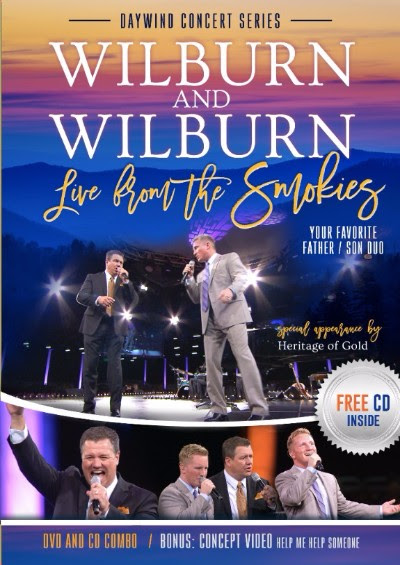 2016 Dove Award nominee, Wilburn and Wilburn, is releasing its first live DVD.
Recorded live at the iconic National Quartet Convention, "Live from the Smokies" features the duo's first #1 song, "You Asked Him To Leave," as well as hits like "Nobody Like Jesus," "It's What He's Done," and "Jesus Will," and classics from Jonathan Wilburn's Gold City days including "Midnight Cry," "I'm Not Giving Up," and "I'm Rich." The duo also takes a turn on the Bill and Gloria Gaither standard "The Old Rugged Cross Made the Difference."
Personal interviews with Jonathan and Jordan Wilburn offer fans a rare glimpse into the ministry and stories behind the songs. As a bonus, the duo included the concept video to the song "Help Me Help Someone" along with two live songs from the highly successful Heritage of Gold tour. Fans will receive a free CD with the DVD.
"Live from the Smokies" will be available initially at the duo's National Quartet Convention booth (#308) and later at Christian retail stores and Wilburn and Wilburn's website and live appearances.
To learn more about Wilburn and Wilburn, visit www.wilburn2.com or on Facebook at www.facebook.com/WilburnandWilburn.
To book Wilburn and Wilburn, contact Beckie Simmons at the Beckie Simmons Agency at beckie@bsaworld.com or call 615-595-7500.
Daywind Records is home to an award-winning roster of artists, including Legacy Five, Adam Crabb, Browders, Jim Brady Trio, Greater Vision, Joseph Habedank, The Hoppers, Karen Peck & New River, Bowling Family, Tribute, Nelons, Brian Free & Assurance, Blackwood Brothers Quartet, the Second-Half Quartet and Wilburn & Wilburn. Daywind is distributed to retail through New Day Christian Distributors, Sony RED, and all major digital outlets, including iTunes.