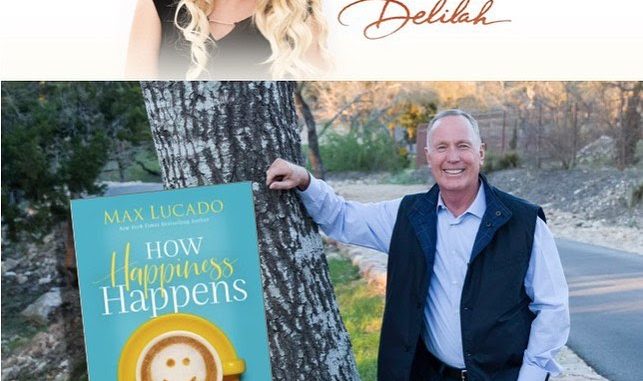 (October 23, 2019) – DELILAH welcomes MAX LUCADO to the latest episode of her popular podcast, Love Someone with Delilah.
Delilah says: "Beloved minister and Christian author, Max Lucado, has a wonderful new book out, How Happiness Happens. Far too many people are unable to "check the happiness box" and Max is concerned about that. His new book sheds some light on how we can change the dynamic and live more meaningful lives with a deeper joy than comes with our current obsession with the next big thing we seem to be waiting for to fulfill us.
He joins me on today's episode of Love Someone, and I think you should too!"
Log onto www.delilah.com/podcast to listen to the podcast.
Past podcast episodes have included Elton John, Gloria Gaynor, Daughtry, Katy Perry, Wynonna, Michael Buble', Barry Manilow, Sam Smith, Miranda Lambert and more.
ABOUT DELILAH
Often referred to as the "Oprah of Radio," Delilah's soothing voice, open heart and love of music attract millions of listeners on more than 160 radio stations, making her the most-listened-to woman on radio in the U.S. For her work on the program, the Marconi Award winner has been inducted into the National Association of Broadcasters (NAB) Broadcasting Hall of Fame and the National Radio Hall of Fame. Nationally syndicated by Premiere Networks, Delilah is heard by over 12 million people across the United States and internationally on the American Forces Network in Japan, Korea and Central Europe, along with her channel on iHeartRadio and her podcast, Love Someone with Delilah. Delilah is also the author of four books, including her most-recent work One Heart at a Time. Published by RosettaBooks, it features an inspiring, uplifting, and motivating look at life, love, and faith. Please visit www.Delilah.com for more information.
Connect with Delilah:
www.Delilah.com
www.facebook.com/Delilah
www.twitter.com/delilahradio
www.instagram.com/radiodelilah
Connect with Point Hope:
www.PointHope.org