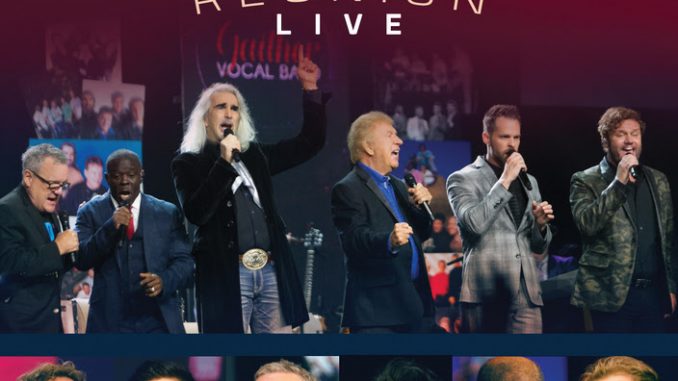 NASHVILLE, Tenn.—October 17th, 2019—History was made when over 20 members, past and present, of the GRAMMY® Award-winning Gaither Vocal Band gathered on one stage for the first-ever LIVE concert reunion. A DVD and CD recording of the two-day event, which took place in Greenville, SC, at the Bon Secours Wellness Arena in 2018, will be made available everywhere on October 25.
On October 18, Gaither Music Group will partner with YouTube for a Reunion LIVE Gaither TV premier, marking the first time the label has debuted a release on one of its online platforms. The Gaither YouTube Channel, which has become a hub from which people around the world can enjoy the latest Gaither videos as well as the brand's decades-long catalog of music, has accumulated over 1.3 million subscribers with over 1.3 billion views.
"We are excited to premiere this special event with YouTube," stated Paul Sizelove, president of Gaither Music Group. "We see the Gaither audience increasingly coming to this platform to watch their favorite Gaither Homecoming artists and songs, and we wanted to offer something unique for them through this online channel. What better event to premiere than this special reunion that means so much to Bill Gaither?"
For a video teaser of the new Reunion LIVE DVD, click on the video player below:
Bill Gaither will be on hand in the YouTube chat room of the premiere, which will take place at 10 EST/ 9 CST on October 18, on the Gaither TV channel.  Fans worldwide can join the viewing and participate in the chat room.  View the 
Reunion LIVE
 YouTube Premiere page here:
 https://smarturl.it/GVBYTPremiere
"I am so grateful to have had the opportunity of working with some of the greatest male vocalists ever in the field of gospel music," stated Gaither.  "I take a lot of pride when I look at the pictures and see all that talent.  What can I say?  I am blessed!"
Along with Gaither, the talent featured on the new DVD and CD includes Mark Lowry, Guy Penrod, Gary McSpadden, David Phelps, Russ Taff, Jim Murray, Michael English, Lee Young, Larnelle Harris, Wes Hampton, Buddy Mullins, John Mohr, Marshall Hall, Reggie Smith, Todd Suttles, Adam Crabb, Wesley Pritchard, Gene McDonald and more.  They combined their voices as never before during a weekend event of song, inspiration and laughter with reflections and devotionals given by Gloria Gaither.  Award-winning musicians included Gordon Mote, Kevin Williams, Matthew Holt, Kevin Moore and Greg Ritchie.
The Gaither Vocal Band was honored on Tuesday night at the 50th Annual GMA DOVE Awards for Southern Gospel Artist of the Year.  The group's current line-up (Bill Gaither, Wes Hampton, Todd Suttles, Adam Crabb and Reggie Smith) was joined by former members Michael English, Mark Lowry, Russ Taff and David Phelps as well as award-winning Bart Millard (MercyMe) and Matt Maher for a special performance honoring the songs of Bill and Gloria Gaither.  The audience was on its feet for the special medley of "Something About That Name," "He Touched Me" and "Because He Lives," which was introduced by Gloria Gaither.  Bill and Gloria attended the very first DOVE Awards ceremony in 1969, where Bill won the first DOVE Award for Songwriter of the Year.
The Reunion LIVE DVD and CD will be part of a TV special airing on over 15 networks that carry the "Gaither Gospel Hour" weekly including TBN, RFD-TV, DIRECTV, The Heartland Network, Dish TV, FamilyNet, CTN, GMTN, Guardian, Liberty, TCT, TLN and GaitherTV.  It will air in Canada on Vision TV, The Miracle Channel, Grace TV and CTS.
The Reunion LIVE DVD and CD are exclusively distributed by Capitol Christian Distribution and Universal Music and will be available throughout general market stores and the Christian marketplace. The products will be available with prime positioning at online retailers and streaming platforms including iTunes, YouTube, Pandora, Apple Music, Amazon Music, Spotify and Gaither.com.
The multiple GMA DOVE and GRAMMY® Award-winning group, which was inducted into the Gospel Music Hall of Fame in 2014, continues to headline one of the largest tours in the Christian music industry.  For further information regarding the Gaither Vocal Band, please visit www.gaither.com or connect on Facebook at www.facebook.com/gaithermusic or on Twitter: @gaithermusic
To purchase tickets for the second LIVE reunion event with the Gaither Vocal Band, which is scheduled in Tulsa, Oklahoma, on April 24 & 25, 2020, visit:
https://www.gaither.com/tour/gaither-vocal-band-live-reunion-concert-weekend
Subscribe to the Gaither Music TV YouTube channel here:
http://smarturl.it/GaitherMusicTV_Subsc