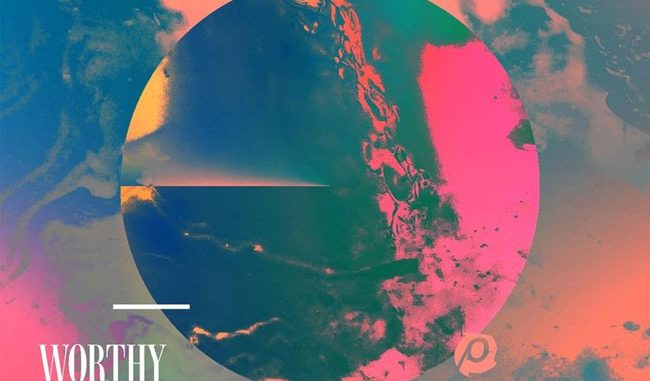 Nashville, Tenn. (February 3, 2016) — Passion is set to unveil their live album Worthy Of Your Name, the latest of their anticipated annual releases, available on all digital platforms February 17, with physical albums available March 24. The release features 11 live songs, recorded at Passion 2017 earlier this year. The album also features additional studio versions of the songs "This We Know (Feat. Kristian Stanfill)" and "Worthy Of Your Name (Feat. Sean Curran)", which released in advance of the album and are available now.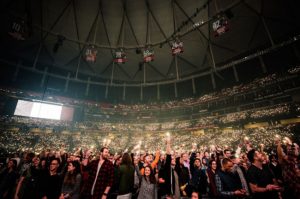 More than 55,000 18-25 year olds from 90 countries and all 50 states packed Atlanta's Georgia Dome for the annual conference, bringing young adults from around the globe together to proclaim the name of Jesus. Spearheaded by Passion Founders Louie and Shelley Giglio, attendees heard from renowned speakers while joining in worship led by Passion (helmed by Kristian Stanfill, Brett Younker and Melodie Malone), Chris Tomlin, Crowder, Matt Redman, Christy Nockels and Hillsong UNITED.
"There are a few moments in life when you know you are catching a small glimpse of heaven, and Passion 2017 was one of those moments for us," Stanfill said. "Fifty-five thousand college students gathering in one place to worship Jesus and stake their lives on what matters most is a world-shaping event. Seeking Jesus and singing these new songs with this generation is an experience and a sound I will never forget."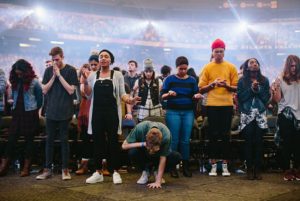 This year, students made history by sponsoring more than 7,000 children through Compassion International, the most children to ever be sponsored at one event. Attendees fulfilled all remaining sponsorships in the countries of El Salvador, Rwanda, Tanzania and Indonesia as well as hundreds in Bolivia. Students have also continued to fight modern-day slavery through support of The END IT Movement along with gathering tens of thousands of new towels and socks for local Atlanta homeless shelters.
Worthy Of Your Name follows in the footsteps of beloved top-selling Passion releases, including last year's Salvation's Tide Is Rising, which debuted at No. 3 on Billboard's Digital Albums Chart and No. 6 on Billboard's Top Albums Chart.
WORTHY OF YOUR NAME
1. Glorious Day (feat. Kristian Stanfill)
2. Worthy Of Your Name (feat. Sean Curran)
3. How Great Is Your Love (feat. Kristian Stanfill)
4. Build My Life (feat. Brett Younker)
5. Holy Ground (feat. Melodie Malone)
6. Heart Abandoned (feat. Kristian Stanfill)
7. Forgiven (feat. Crowder)
8. This Changes Everything (feat. Matt Redman)
9. This We Know (feat. Kristian Stanfill)
10. Rule (feat. Hillsong UNITED and Crowder)
11. God Of Calvary (feat. Chris Tomlin)
12. Worthy Of Your Name (feat. Sean Curran) (Studio)
13. This We Know (feat. Kristian Stanfill) (Studio)
14. Beacon (Official Music Video) – Jimi Cravity (Digital only)
About Passion
From its start in 1995, Passion has been rooted in the confession of Isaiah 26:8 – Yes Lord, walking in the way of Your truth we wait eagerly for You, for Your name and Your renown are the desire of our hearts – existing to glorify God by uniting students in worship, prayer and justice for spiritual awakening in this generation. Passion has encountered millions of students and 18-25 year olds, young people whose lives have been transformed by the power of the Holy Spirit. One of the most impactful and stirring aspects of the movement has been the sea of voices uniting together to lift up the name of Jesus, currently helmed by Kristian Stanfill, Brett Younker and Melodie Malone. The band has seen worship leaders such as Chris Tomlin, Matt Redman, Crowder, Christy Nockels and more unite over the years, writing, recording and leading arenas in worship. Transcending the conferences, songs from Passion have become some of the most recognizable and unforgettable worship anthems of this generation. With more than 1.8 million units sold and a multitude of chart-topping singles such as "How Great Is Our God," "God Of This City," "One Thing Remains," "Even So Come," and "10,000 Reasons (Bless the Lord)," listeners across the world continue to be impacted by the music of Passion. Delivering new projects annually, songs from records such as Here For You, White Flag, Let The Future Begin, Take It All, Even So Come and Salvation's Tide Is Rising have become timeless staples in the Church. Their newest offering, Worthy Of Your Name, is set to release digitally February 17. The four-time Dove Award winners have had seven albums debut at No. 1 on Billboard's Christian Albums Chart with two hitting the Top 5 on the Billboard 200. Through it all, Jesus continues to remain at the center. Passion is more than music. More than events. Passion is a generation living for His name.
Get Connected With Passion
http://268generation.com
http://twitter.com/passionmusic
facebook.com/passion268music
instagram.com/passionmusic