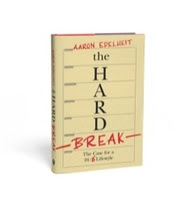 Santa Barbara, CA – What if the real secret to happiness, productivity, communication, and success is a habit that is thousands of years old? Entrepreneur Aaron Edelheit shares the story of making a conscious decision to practice a day of rest each week, only to discover incredible results in his professional, personal and spiritual life. In his new book THE HARD BREAK: The Case for a 24/6 Lifestyle, Edelheit parallels compelling research, case studies, and testimonials to his own journey, proving the priceless benefits of fully unplugging from technology, work, and social media. THE HARD BREAK: The Case for a 24/6 Lifestyle will be available on May 14 through Ideapress Publishing.
Like many entrepreneurs, Edelheit was a workaholic on a collision course with a myriad of health issues. Stress was a badge of honor, and his career literally enveloped his entire existence. He knew he had to make a change, and through a three-year journey, taking a weekly pause became a foundational habit in his life. He calls THE HARD BREAK a "love letter" to the regular practice of intentionally stepping away from the frenetic craziness of modern life.
"My goal in writing this book is to change the way people view and experience their modern lives," he explains. "I want to offer a different perspective and concrete guidelines that can make people more productive at work, bring them greater happiness, save their marriages, and improve the overall quality of their lives."
By merging scientific research, stories from leaders in business, and tales of his own life, Edelheit creates a compelling argument for taking a weekly pause from technology. The book is divided into three parts:
Part 1- "The 24/7 Life" shares research and case studies that show how detrimental overwork is to productivity, safety, and health.
Part 2 – "The Value of a Hard Break" examines how health, happiness, creativity, and productivity thrive when regular, dedicated times of rest are scheduled into our lives.
Part 3 – "A Successful Sabbath" is his personal step-by-step guide to preparing for, and making the most of, a weekly hard break.
"Taking a hard break has changed my life in profound ways," Edelheit continues. "The benefits of a Sabbath can be shared by everyone, regardless of their religion. This book is my best attempt to spread the value of unplugging and observing a time of rest each week. Your business and your family will thank you for it."
THE HARD BREAK: The Case for a 24/6 Lifestyle – available online and at retail outlets on May 15, 2018. http://www.thehardbreak.com/