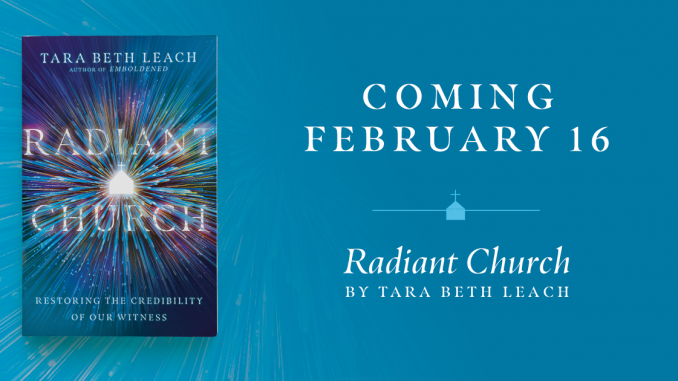 Many times lately I've wanted to post on my social media outlets these words: "Dear World, I'm sorry. Dear Christian, stop it already." 
     My eyes stretched wider than ever before over the last year and I've never been more shocked at what I've seen from the "Church." Honestly, a lot of what I've witnessed was/is definitely not new, but still made me feel like screaming… "THAT'S NOT LIKE JESUS!" I've also found myself with head bowed, eyes closed, hand raised saying, "It's me, it's me, it's me oh Lord, standing in the need of prayer!" 
     Although my concerns for the witness of Christ have kept me awake at night, and caused tears to fall, I've not said much. My internal alarms ring loud and clear on a regular basis, but like many other church leaders, I don't know what to say. Not only that, I admit I fear what others will do if they disagree. When I saw the cover of Tara Beth Leach's new book, RADIANT CHURCH, the subtitle, "Restoring The Credibility of Our Witness" is actually what grabbed my attention. I signed up for the launch team, and received a copy right away. 
     Wow! Pastor Tara Beth Leach is a gifted communicator!  She has the ability to call out the wrong and call for the right with integrity, passion, and authority. The good thing is, that fire is delivered with grace, humility and love.
It is out of that love she brings attention to the "Ism's" that dim the Church's witness and casts the vision of how the Church should Biblically be. With much hope, Tara Beth brings to light the steps the Church needs to take to get back on track. One simple way is through acts of mercy—something we see little of these days, for sure.
     Some of the "Isms" dimming the Church's light are, Racism, Nationalism, Individualism, Sexism and more. It's no wonder church attendance is low and some people have little to no interest in things of God. But, Tara Beth encourages the Church to not give up and reminds us of our call and purpose of living… "Thy Kingdom come, Thy will be done on EARTH as it is in Heaven." 
     This book is for anyone who loves the Church and longs for the Bride to reflect the Glory of God and His brilliance. It is for anyone who needs a fresh reminder of who Jesus is and what His mission is. It is for all who are concerned over division that has crept into the Church. It is especially for Church leaders who are discouraged over congregants deceived by ideals contrary to authentic Christianity and  are also concerned about the decline in attendance. And, who are perhaps at a loss figuring out how to effectively reach people for Christ.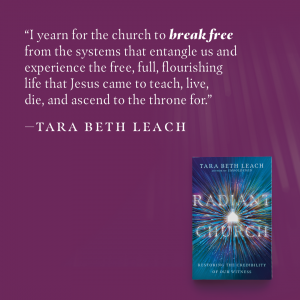 Discussion questions for reflection or conversation starters are found at the end of each chapter making this a great small group or church-wide study. It is my prayer for this book to spark honest, difficult, overdue conversations that will lead us to shining as God intended.
    Radiant Church- Restoring The Credibility of Our Witness is undeniably relevant for today- so much so it feels like the breath of God on it. Since the word prophetic could be misinterpreted, maybe it is best to say there is no doubt in my mind God burdened Pastor Tara Beth's heart and then guided her writing for such a time as this!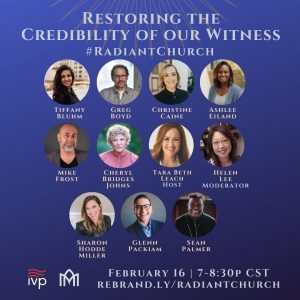 For more information on the author and to register for the upcoming virtual book launch, visit here. RADIANT CHURCH: Restoring The Credibility of Our Witness releases February 16, 2021 and can be pre-ordered at Amazon.