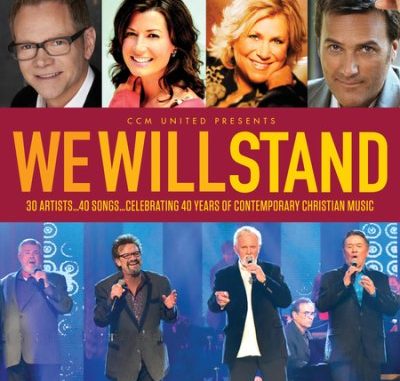 Contemporary Christian Music had one amazing, memorable night in January of 2015. The "who's who" of CCM, those who spent the last several decades paving the way for a genre that would revolutionize Christian music as we know it, gathered for one night of celebration.
The concert recorded live album "We Will Stand" was dubbed "the greatest night in the history of contemporary Christian music" by its executive producer, Stan Moser.
It featured performances by Amy Grant, Michael W. Smith, Sandi Patty, Steven Curtis Chapman, Russ Taff, 4Him, Laura Story, Nicole C. Mullen, Michael English, Newsboys, The Imperials, Phillips Craig & Dean, Dallas Holm, Jaci Velasquez, Larnelle Harris, Evie (Tornquist), Steve Green and more.
Supported by Nashville's finest musicians, iconic CCM artists performed decades of hits and even a few of today's favorites. Post-concert interviews and testimonies from artists displayed one central theme woven throughout: In spite of the hardships and battles faced by each of these artists, faith in Christ has sustained their music and its message.
Sandi Patty and Larnelle Harris performed their #1 hit "I've Just Seen Jesus." The Imperials with Russ Taff thrilled the audience with "Trumpet of Jesus." Smith brought back so many memories with the entire artist cast with his treasured "Friends." The late Andraé Crouch was remembered in a performance of his 1971 tune "My Tribute."
If you watch the DVD, you will get a fuller sense of the unity and Holy Spirit presence as each artist joined the Newsboys to sing CCM's latest anthem, "We Believe." Taff invited the audience to "take somebody's hand on either side of you" as he led all of the artists in singing "We Will Stand."
The CD features 45 of your favorite songs, while the DVD also capture some of the stories behind the music with interviews by Grant, Smith, Patty, Bill Gaither and more.
CD TRACK LISTING
1. Sing Your Praise to the Lord – Amy Grant
2. The Great Adventure – Steven Curtis Chapman
3. How Majestic Is Your Name – Sandi Patty
4. Great Is the Lord – Michael W. Smith
5. A Love Song – Love Song with Phil Keaggy
6. Trumpet of Jesus – Imperials
7. Praise The Lord – Imperials with Steven Curtis Chapman, Michael W. Smith
8. I Am – Mark Schultz
9. You Are God Alone – Phillips, Craig & Dean
10. On My Knees – Jaci Velasquez
11. Future Generations – 4Him
12. Basics of Life – 4Him
13. Watercolor Ponies – Wayne Watson
14. Redeemer – Nicole C. Mullen
15. My Tribute – Evie
16. How Beautiful – Evie
17. People Need the Lord – Steve Green
18. Mary, Did You Know? – Michael English
19. Another Time Another Place – Sandi Patty, Wayne Watson
20. Amen – Larnelle Harris
21. I've Just Seen Jesus – Larnelle Harris, Sandi Patty
22. We Shall Behold Him – Sandi Patty
23. Undivided – First Call
24. Blessings – Laura Story
25. I Am on the Rock – Petra
26. Rise Again – Dallas Holm, Steven Curtis Chapman
27. He's Alive – Don Francisco
28. We Are the Reason – David Meece
29. How Great Is Our God – Mark Harris
30. In Christ Alone – Steve Green
31. Give Thanks – Don Moen
32. Indescribable – Laura Story
33. God of Wonders – Travis Cottrell
34. Revelation Song – Phillips, Craig & Dean
35. Free to Be Me – Francesca Battistelli
36. I Will Be Here – Steven Curtis Chapman
37. God's Not Dead – Newsboys
38. Thy Word – Amy Grant
39. El Shaddai – Amy Grant, Sandi Patty
40. Breathe – Michael W. Smith
41. For the Sake of the Call – Steven Curtis Chapman
42. We Believe – Newsboys
43. Friends – Michael W. Smith
44. We Will Stand – Russ Taff
45. Awesome God – CCM United
DVD TRACK LISTING
1. Sing Your Praise to the Lord – Amy Grant
2. Trumpet of Jesus – Imperials
3. How Majestic Is Your Name – Sandi Patty
4. Great Is the Lord – Michael W. Smith
5. A Love Song – Love Song with Phil Keaggy
6. Praise the Lord – Imperials with Steven Curtis Chapman, Michael W. Smith
7. You Are God Alone – Phillips, Craig & Dean
8. On My Knees – Jaci Velasquez
9. Future Generations – 4Him
10. Basics of Life – 4Him
11. Watercolor Ponies – Wayne Watson
12. Redeemer – Nicole C. Mullen
13. My Tribute – Evie
14. People Need the Lord – Steve Green
15. Mary, Did You Know? – Michael English
16. Another Time Another Place – Sandi Patty, Wayne Watson
17. Amen – Larnelle Harris
18. I've Just Seen Jesus – Larnelle Harris, Sandi Patty
19. We Shall Behold Him – Sandi Patty
20. Undivided – First Call
21. Blessings – Laura Story
22. He's Alive – Don Francisco
23. We Are the Reason – David Meece
24. How Great Is Our God – Mark Harris
25. In Christ Alone – Steve Green
26. Give Thanks – Don Moen
27. Indescribable – Laura Story
28. God of Wonders – Travis Cottrell
29. Revelation Song – Phillips, Craig & Dean
30. Free to Be Me – Francesca Battistelli
31. I Will Be Here – Steven Curtis Chapman
32. God's Not Dead – Newsboys
33. Thy Word – Amy Grant
34. El Shaddai – Amy Grant, Sandi Patty
35. Breathe – Michael W. Smith
36. For the Sake of the Call – Steven Curtis Chapman
37. We Believe – Newsboys
38. Friends – Michael W. Smith
39. We Will Stand – Russ Taff
40. Awesome God – CCM United