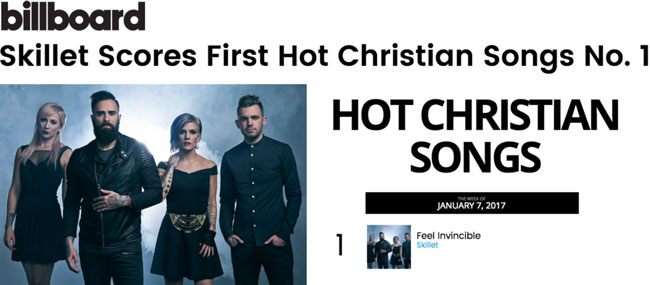 Nashville, Tenn. (Jan. 5, 2017) – Skillet has sold 11 million units worldwide, closed out 2016 with seven mainstream rock and 10 Christian year end chart placements and were once again the Top Christian Streaming Songs Artist of 2016, but 2017 marks the first time the band has topped Billboard's Top Christian Songs Chart.
Their track "Feel Invincible" recently topped the chart alongside going to No. 1 on both the Active (Mediabase) and Mainstream (BDS) Rock charts, making history by spending 19 weeks at the top of the Christian Rock chart, the most weeks ever since the chart's inception on Billboard. Their follow up single at Active (Mediabase) Mainstream (BDS) and Christian Rock, "Back From the Dead" goes for adds on January 23.
The video for "Feel Invincible" has been viewed over 23 million times on YouTube and streamed over 16 million times on Spotify. "Feel Invincible" has also been a hit in the sports world, having been used by the NFL's Monday Night Football, Major League Baseball (MLB), National Hockey League (NHL), WWE during their Battleground Pay-Per-View, TBS' E-League and Nickelodeon's Kids' Choice Sports Awards. The No. 1 song was also chosen by the Atlantic Coast Conference (ACC) for use throughout the entire 2016 football season.
Additionally, the debut Christian radio single from UNLEASHED "Stars" hit No. 1 at Christian Hot AC and continues to climb the National Christian Audience, and AC Monitored and Indicator charts heading into 2017.
The 26-city second U.S. leg of "The UNLEASHED Tour" will kick off on February 8th in Clifton Park, NY and will make stops in Philadelphia, PA; Spokane, WA; Los Angeles, CA and Denver, CO to name a few. The tour wraps on March 24th in Little Rock, AR and is a continuation of the band's celebrated U.S. run that wrapped up last October. For the latest ticket information, visit http://www.skillet.com/tour.