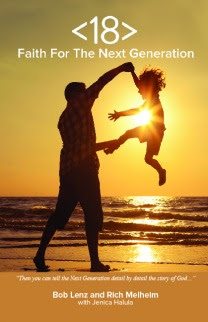 (Neenah, WI) – According to Barna Research, less than 18% of 18 year olds are in church on any given Sunday morning. Speaking to over 500,000 youth each year, Bob Lenz is well aware of the apathy this generation has toward the Christian faith. In his new book, "18: Faith for the Next Generation," Lenz and co-authors Rich Melheim and Jenica Halula detail eighteen faith experiences parents can cultivate with their kids. And Lenz says there is no time to waste.
"Many students used to go away to college and that's generally where their faith would fall by the wayside," says Lenz. "But now, even middle school kids are giving up on church as youth group numbers continue to plummet. We can help reverse this trend by making sure our children are not experiencing a religion of rules, but instead are having real encounters with the living God of the universe. Parents are the first line of defense when it comes to leading their children to a personal relationship with God. But churches need to also make sure they are not just entertaining our youth, but teaching them necessary disciplines as well as discipleship so that they can grow in their faith."
"18: Faith for the Next Generation" is a blend of wisdom and insights from three distinct people: a youth evangelist (Lenz), a doctor in linguistic philosophy (Melheim) and an artist/mother (Halula). With personal stories and first-hand experiences, the book offers parents and grandparents practical daily exercises that will fit families of all shapes, ages and sizes. Lenz says churches need to come along side parents and grandparents to help make sure this generation is not lost.
"I was a youth pastor for over seven years and I had a big sign in my office that said, 'Youth: Challenge them or lose them.'  So often our churches entertain students to they keep coming back, but the result is we create seekers instead of disciples.  I think we have to turn that corner.  They need to be taught the fundamentals of our faith, as well as how and why to have a relationship with Christ. And we need to be encouraging our youth to share their faith with younger kids. We need to develop a ministry to youth by youth. Research shows that two out of three people who come to Christ do so before reaching 18 years of age. We have to make our young people a priority."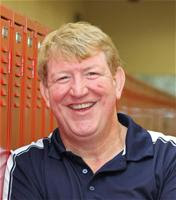 About Bob Lenz:
Bob Lenz speaks to over 500,00 people each year through community outreaches, festivals, school assemblies, church events, tours and conferences. Lenz is a sought-after school speaker for programs on anti-bullying and suicide prevention. He is part of the Next Generation Alliance, spearheaded by the Luis Palau organization, which trains evangelists across the globe. He has worked with numerous national organizations including MADD, Boys and Girls Clubs, Billy Graham Evangelistic Association, Youth Encounter, Young Life, NFL Chaplains, among many others. He has headlined tours with Grammy-nominated band, The Newsboys, and been the featured speaker at numerous festivals including AtlantaFest, Creation, Rock the Desert, and many others. His organization, Life Promotions, is a non-profit organization that birthed the annual Lifest event which hosts over 60,000 people for a time of music and teaching in Oshkosh, Wisconsin. In the last two years, Lifest has grown to include international locations in Haiti and Peru. For more information visit www.LifePromotions.org.